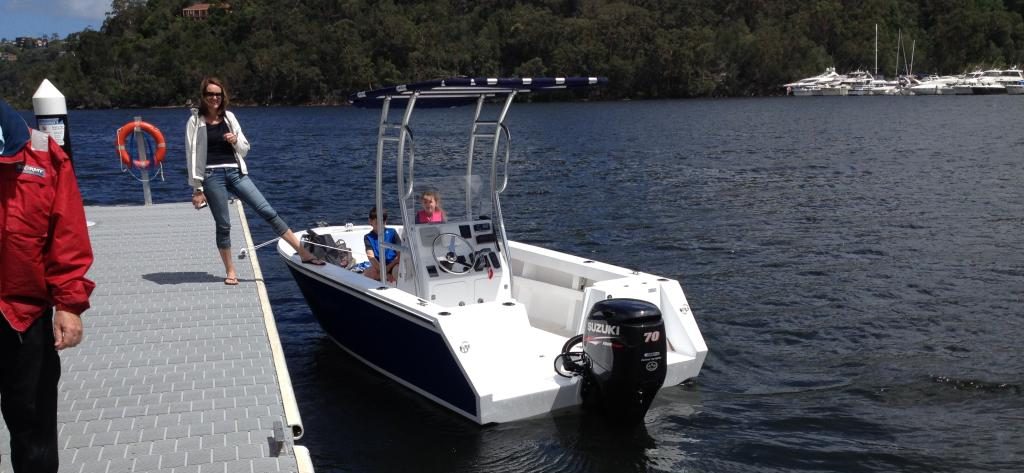 Latest Launching – Colts Sea Sea Strike 16
Its great to see another Sea Strike 16 hit the water. This time its from Colt (Hugh) from Sydney.
He writes:
Hi all
We are finally afloat. Still lots of bits n pieces to do. But I just couldn't wait any longer. I'd call it a sea trial rather than a launching.
Before I'd even set foot on the boat. A couple of old blokes wanted me to settle an argument and confirm whether the boat was alloy or glass and what type of boat it was. They couldn't believe that id made it myself and then asked how much the "kit" was to buy.
The boat rides incredibly smooth. It was a windy day, but very dry in the boat. Handles the wash beautifully. She sat on about 18kts at 4000rpm. I pushed it to 5000 for a second or two and we hit 26knts. I recon it will go close to 30 at wot.
Couldn't keep the smile off my dial
Well the motor has 12 hours on it now (yes I know, but I was away for a couple of weeks), so it's about time I gave an update.
Firstly, this boat is awesome, it is perfect for the family and the fishing. The interior layout gives you so much room. There is just no dead space whatsoever.
We've been taking the boat all over the harbour which is a great test. It really gets messy, particularly around the harbour bridge with all the big boat wash and rapidly changing depth. The reality is that if the boat is 16 feet and you hit a wave length of more than that, then your coming down hard if you take it at speed. That being said I wasn't having as much difficulty as other boats in the same size bracket.
I still get asked about the boat at the ramp. People just don't believe I built it.
I really want to thank Mark and Debbie for the fantastic support over the last few years. I really couldn't have done it without you both. This is the most rewarding project I've undertaken and I have learned skills that will last a lifetime.
On a final note, we blooded the boat. – it was a massive fight and it almost spooled us a couple of times before finally giving in and surrendering to the might of the sea strike 16.
If you want to see more of this design and something that you too can build,


Please click the button below.

Its that easy