Its great to see yet another Mushulu 14 being launched, this time from Luc in Tasmania.
Luc previously built an EdgeTracker 426 and is now building a Pro Tournament 21 as well
He writes:
Mushulu was officially launched last night. Floated in river and had a few beers with mate. Very pleased with performance.
I've just come off a hot streak in life the last few months and I'm in a flat spot. On second week off work injured (surfing), and I'm finding the dating scene in 2020 somewhat savage but I think it's more I'm just a sheltered country bloke. I think you will agree if you look at the pictures that my rough patch could be a bit worse.
Also another caveat for you Mainlanders, Tassie truly is an awful place, these pictures are deceptive, stay over there.
Also had the SB20 national titles here over weekend went for a look and got stuck in mud with rich old people was pretty funny, will put a couple of pics up.
So on the Mushulu, so far there's nothing I would change. Really happy with the performance. At slow speeds and just floating she's a fat bottomed girl, rock solid, gets up so easy, when up and running she cuts very nicely indeed. There were some decent wakes today, as good as this class of boat can get.
Super easy to get on and off trailer, tow and maneuver.
I made allowance to put fuel up front for balance but haven't needed to at all.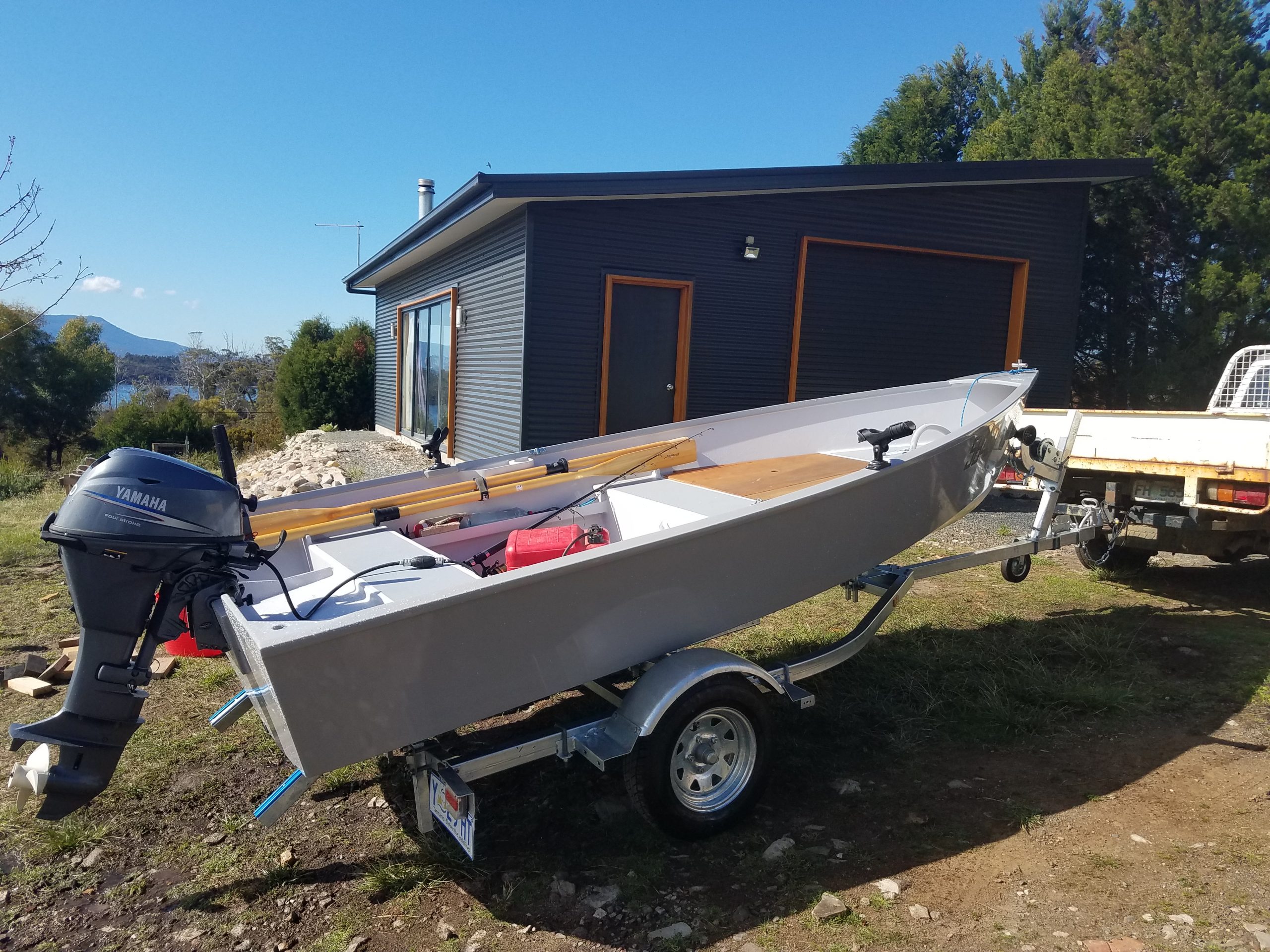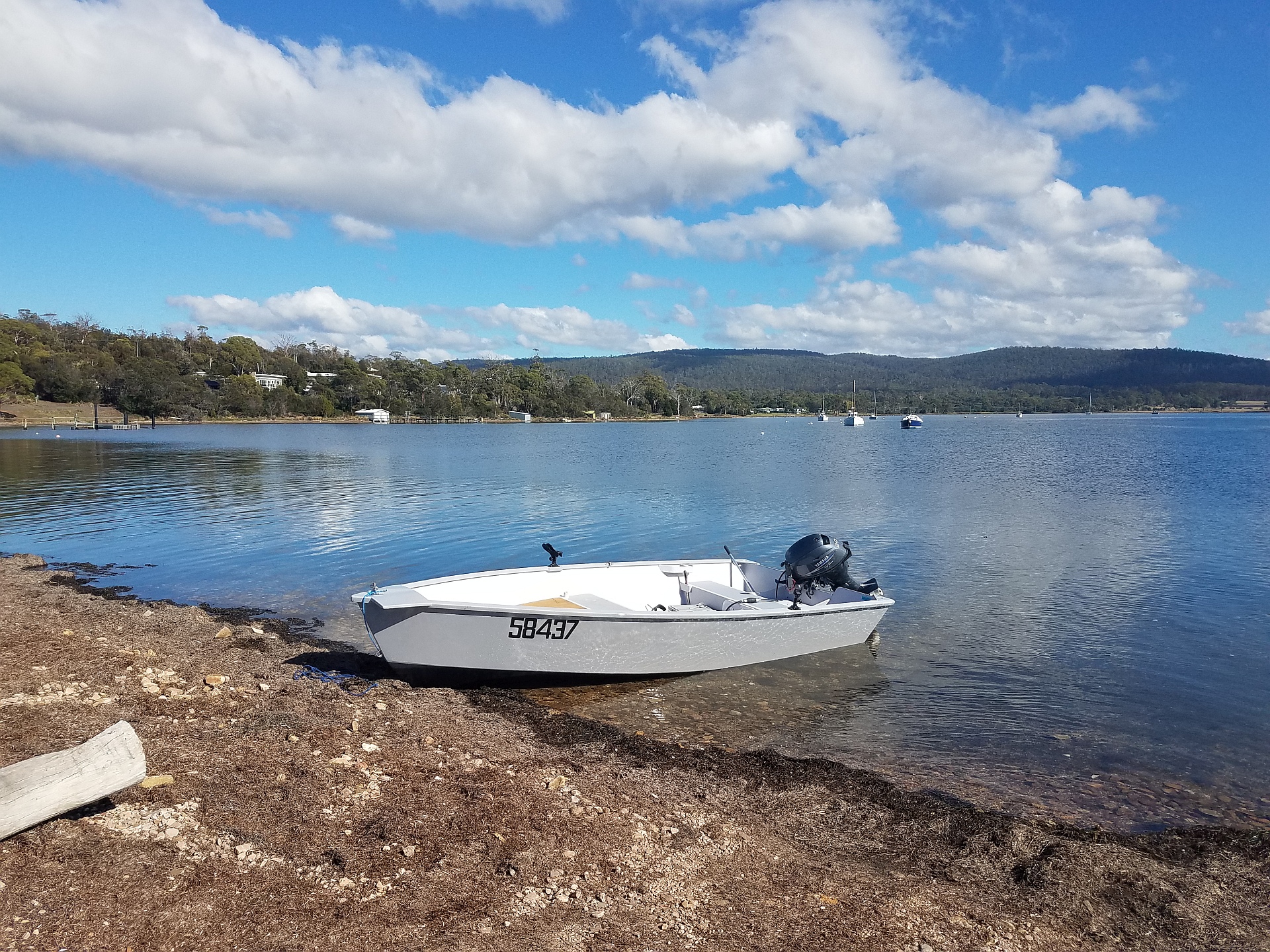 The beanbag what can I say, everyone needs one of these. Cleaning the boat is my kind of cleaning just open a hatch and chuck stuff in, shut the hatch done (seems like the Tardis...Dr who).
Out of sight out of mind.
Stubbie holders again everyone needs these.
Really happy with my drainage set up makes it so easy to hose boat out.
So this morning I went out to troll for a Kingfish, only caught 1 Coota (I think) about 400 or 450mm, at least I've caught something.
Things got out of hand when I ended up in the beanbag letting boat drive itself.
The little outboard has a nice little setup where you can lock the steering and lock the throttle, super handy. The outboard seems a perfect match for the boat, does vibrate a bit but would highly recommend it as a match to this hull. So I worked out I could lay in beanbag and watch lines, using the hills in the background to steer. Just use the oar to bump tiller every now and then to steer without getting up.
Also would just kind of roll over every now and then to see if anythings coming, like fat Labrador wanting a belly rub. With the warm sun on me (sorry freezing, cough) and the vibrations from the outboard like a massage chair, I'm going to have to be careful I don't fall asleep and end up in New Zealand.
Seems like it doesn't actually use fuel so I probably could make it to NZ. (LOL)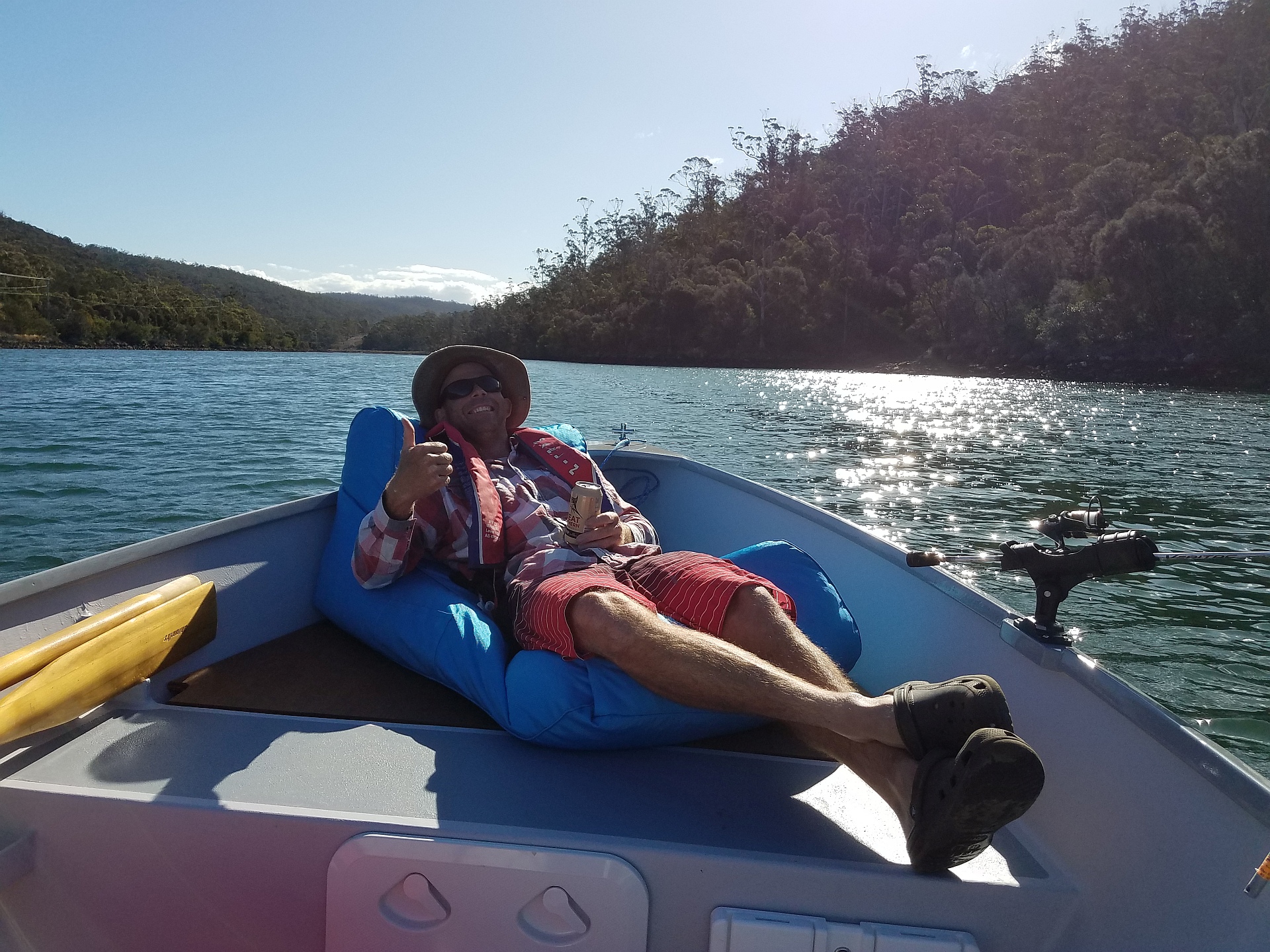 You will be able to pick the pics taken sitting upright a tiller and the ones lounging in beanbag
All in all bullshitlly good. Just need to find a nice girl to drive it,
Thanks again Mark, helping make dreams come true, Legend.
Also highly recommend the Railblaza rod holders, not too dear, good quality and give really good flexibility to adjust your rod positions to make them easy to watch from different positions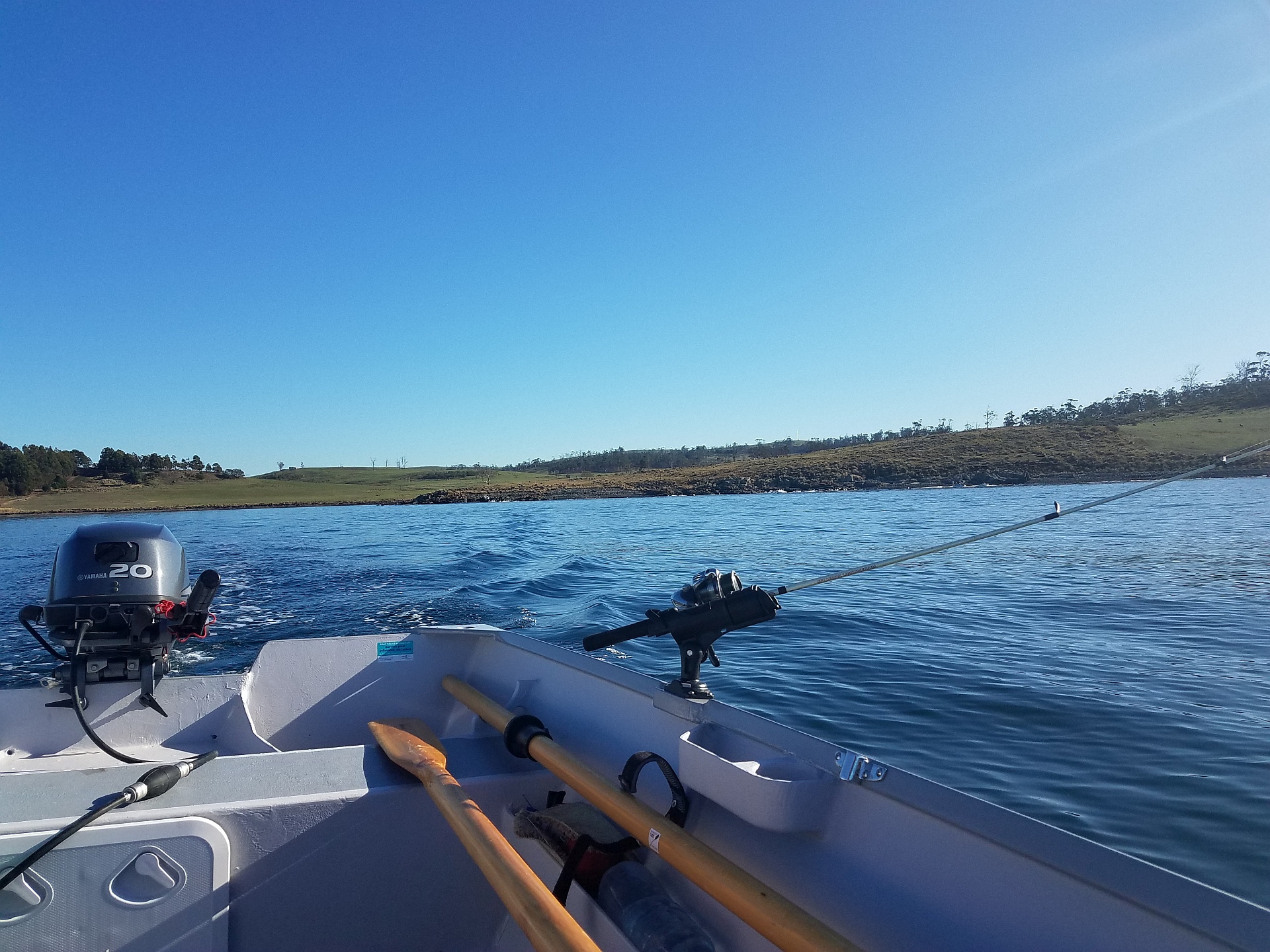 My apprentice's old man was coming in at same time as me after work yesterday. Got a few shots of the mushulu.
Still loving this little boat so easy to use so cheap to run.
Doesn't mind a bit of chop at all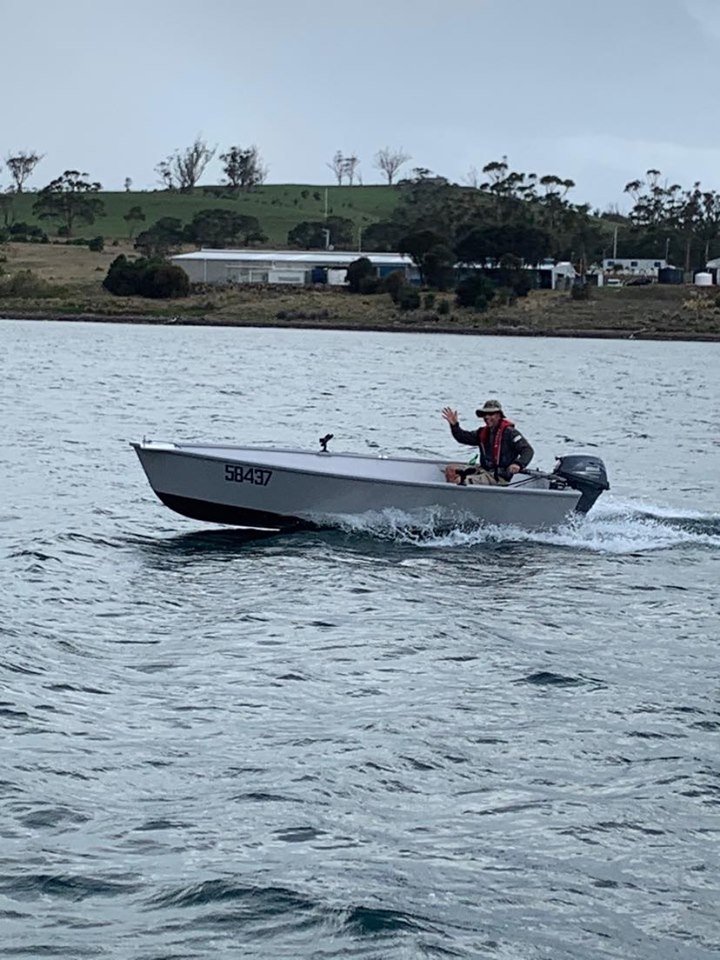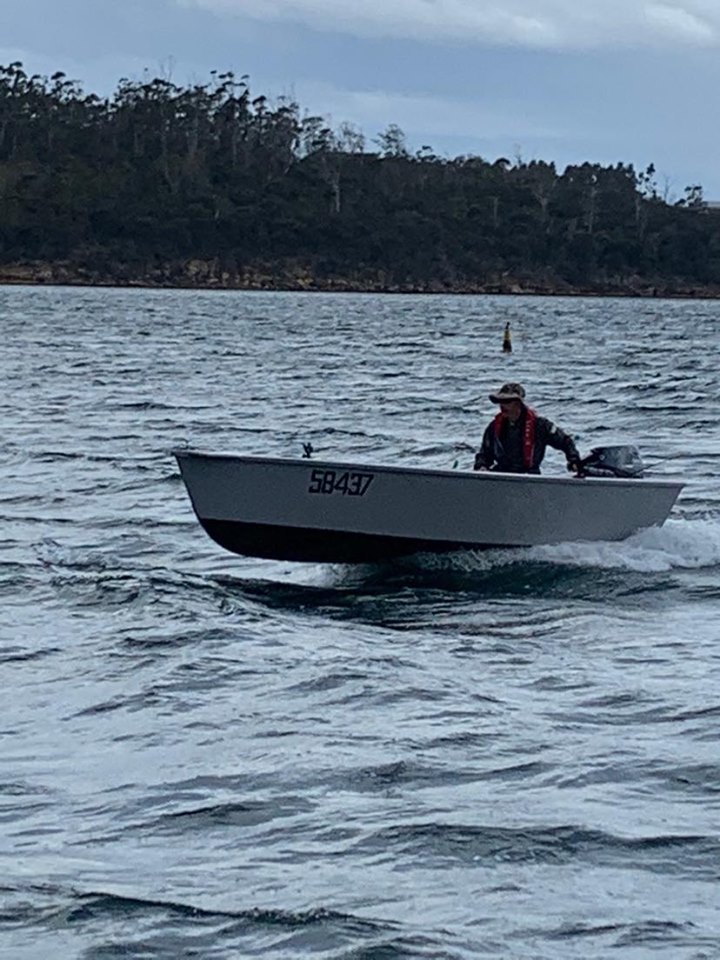 If you want to see more of this design and something that you too can build,


Please click the button below.

Its that easy