COMPLETE BOAT PLANS & FULL SIZE FRAME PATTERNS
The plans have all the information you need to build your own boat... Each plan contains all the construction drawings, everything you need to build your boat.
Plus.... you can also join our private subscription based BOAT BUILDING FORUM if you wish, to assist with your build The plans are printed on 2ft by 3ft paper for normal construction drawings and and full size paper patterns.
By using the full size patterns and detailed plan sheets, the parts can be accurately marked and cut out.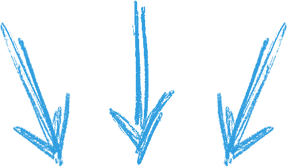 Easy planing at low speeds, great stability whilst at rest, and reduction in fuel consumption without compromising the strength, durability and safety of the design, careful consideration was given to loads of storage lockers, comfortable seating throughout and a stable platform for fishing or other recreational activities without compromising safety for those on board.
Designed also for ease of construction for the first time builder, the Mushulu 12 is light enough to be easily trailerable for adventures in distant places. But overall, it had to be simple and easy to build, without spending everything you have.
For the interior, it had to be clean and simple, with a loads of room and storage. Emphasis was given to having higher than normal sides and comfortable seating arangements, without having your knees in your face. Within the seats there are 2 large sealed lockers, for all those items you may want locked away, while still retaining the foam filled buoyancy compartments in the outer seat sections, as required to comply with the standards. The bow seat also doubles as an anchor locker.
Overall, the design had to be kept simple, clean and functionable, for a great days fishing or simply out and about with the family.
-------------------------------------------------------------------------------------------------------------------------------------------------------------------------------------------------------------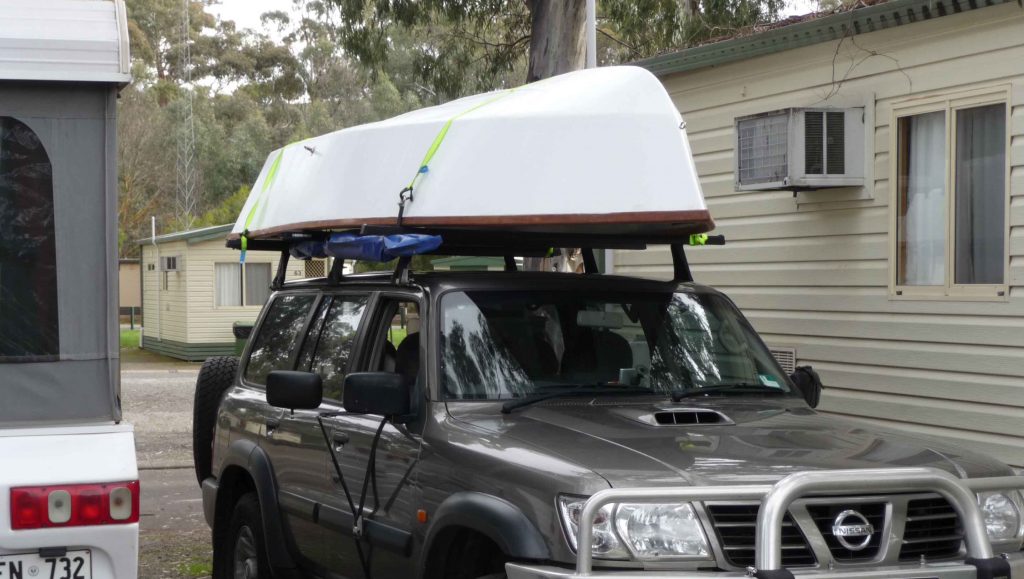 MUSHULU 12 SPECIFICATIONS:
- Overall Hull length ......12 ft ( 3.65m)




- Beam ...... 5ft - 7in (1.7m)




- Deadrise @ Transom ...... 10 degrees




- Engine shaft length ...... S/S (15")




- Recommended Hp ...... 9.9 - 15 Hp


- Fuel Capacity ...... Portable Tank
- Approx Hull Weight (pending Builder & Materials) .... 121 lbs( 55 kg)
- Construction …. Epoxy Fibreglass Plywood Composite Construction
Australian Builders Plate Compliant

Making the decision whether or not to build or buy was very easy for me, I found Mark through his web page, rang him and with a great deal of enthusiasm he explained how easy it would be for me to build the Mushulu 12 or 14. The cost of building was also very cheap and you also had the excitement knowing that you will build something with different shapes, sections and curves and once built, it will float! As a carpenter this all gave me much excitement and I was ready to start.
To all of you reading this, I can honestly say that the build was very easy. Anyone who is good with their hands, who is patient and wants to achieve a high quality product will find this project very enjoyable and complete it with ease. When I had the entire boat formed and glassed, I decided that I wouldn't just paint the boat. I would detail it with as much exposed timber as possible. The bulkheads would be in clear veneer with solid edging with solid doors, the front seat and anchor hatch would have inlays in a contrasting colour and the boat would have a sole with contrasting colors. Also the rubbing strake would have timber inlays and the entire boat would be a pearly white color with as much chrome as possible, as it had to look like it was made for a classy yacht. This I hoped would make it easier to sell. The things I didn't enjoy as much as others was obviously the sanding of fiber glass, but all in all it was very enjoyable. It would be great to be able to build full time, not part time as the stages would be completed faster and certain elements would be cheaper. For the next build I intend to build two boats at the same time as this will save me time and money. I will be ready to build a larger vessel as the build stages of this boat carry on to the next one.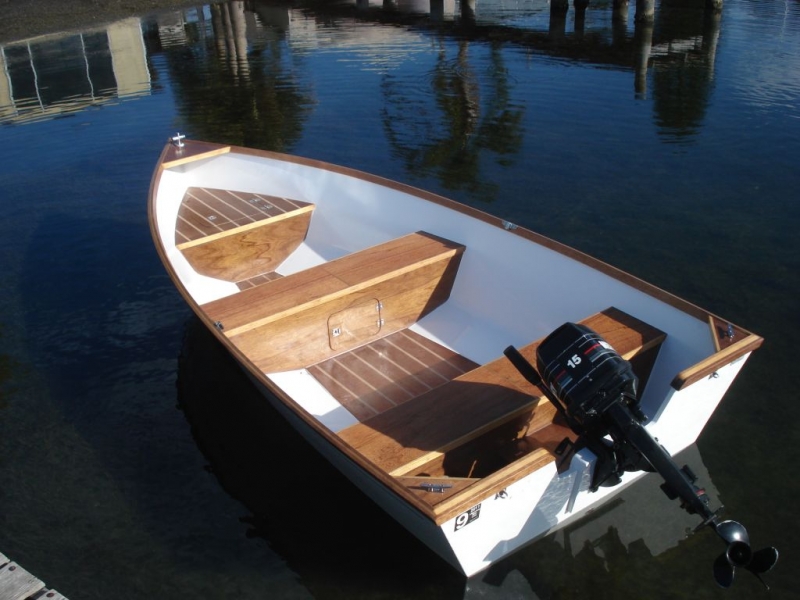 And to my good friend Mark, we haven't yet met face to face, but I'm sure we will one day. Just so you all know when reading this, Mark is not just someone who you buy the plans from. He is the person you will be able to contact at any time and any day regarding your build. His web page is full of information and each boat has its own build stages of previously built boats. So when you start out building, you are surrounded by photos of each stage of construction and with your plans in your hands, you also have a visual library of the construction stages. If you still need help, you can just call him and he will explain everything so that you understand ! This makes it so easy and stress free!
Thank you Mark for making the dream possible.
Tom Macens.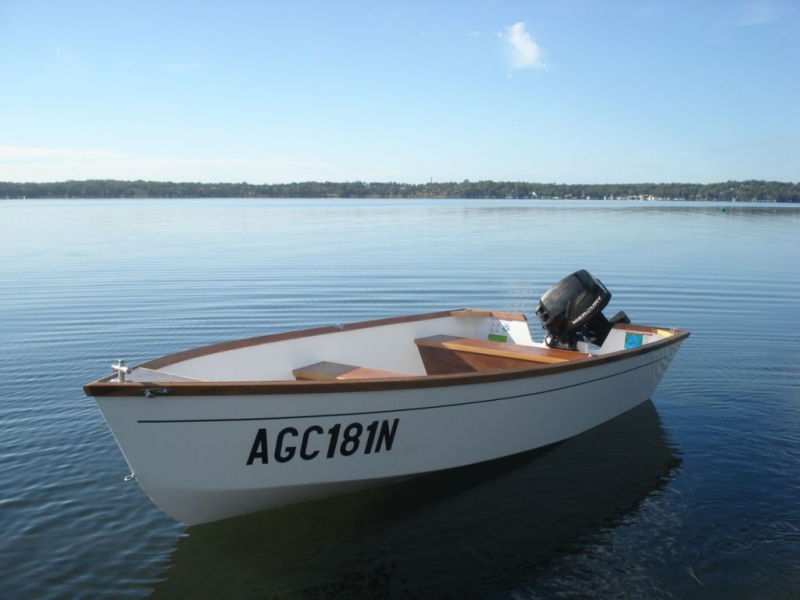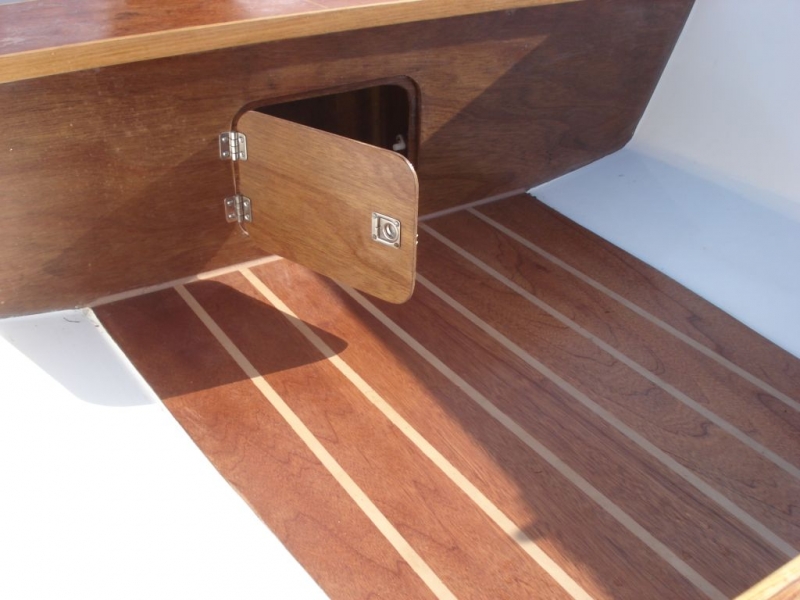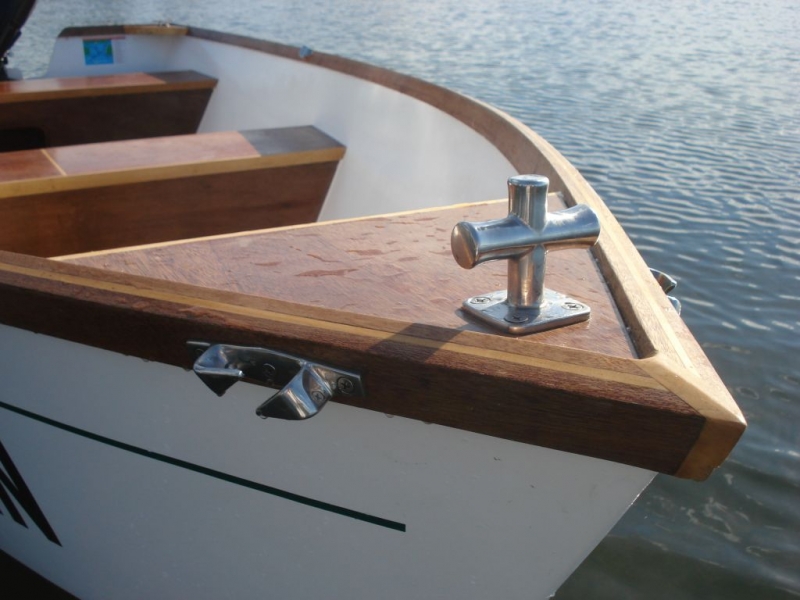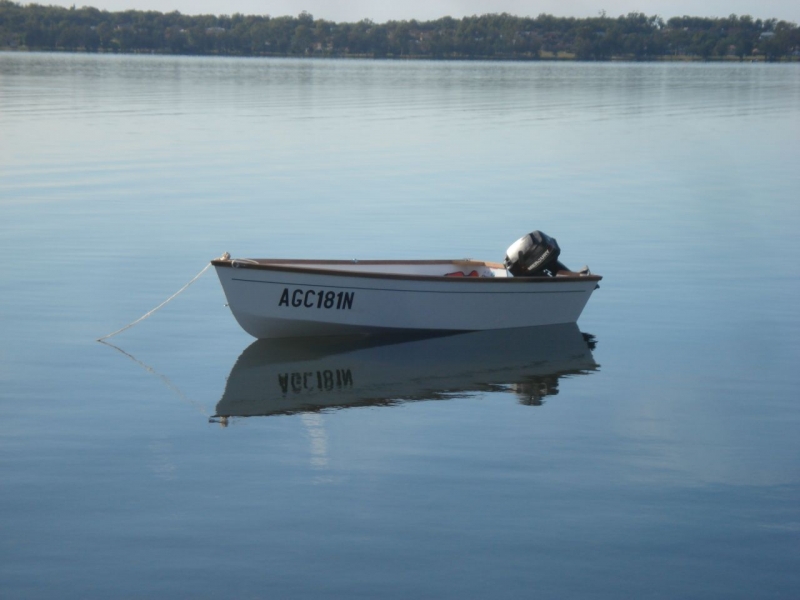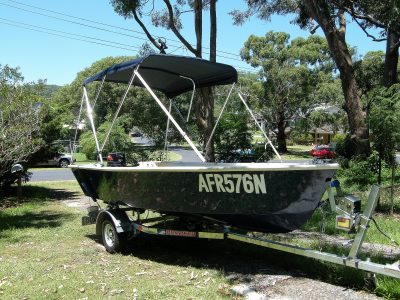 Peter's Mushulu 12
Mark,
Well "Salt Peter" is finished, launched and has done 9 hours of cruising. Everything went well. The craft performed beautifully. Have had the 9.9 Hp motor up to full throttle and the boat planed with 2 people (90 kg each). A very dry boat, running straight and steady and took turns like a champion. Congratulations!
Regards Peter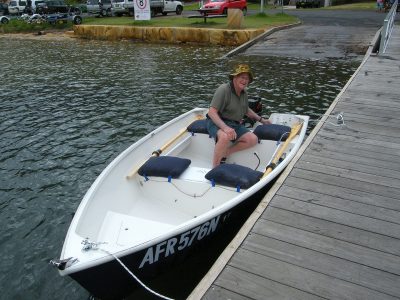 The History of the Mushulu 12 and its Name
Years ago when we used to live on our 43 ft yacht, we were in Cairns at the time building a multihull for a client. Anchored in front of us was the 35 ft Trimaran owned by a couple called John and Jan. Well… they had this Niad inflatable dinghy where the side sponsons had a habit of going flat all the time.
One day they popped around with set of plans for a flat bottom skiff, asking could we build this dinghy for them. Taking one look at it I commented that as tender, it was useless and we could design and build something far better, something where your not pounding and ripping your spine out through the roof of your mouth. They agreed and over the next couple of days I drew up this small dinghy and taking it around... they loved it.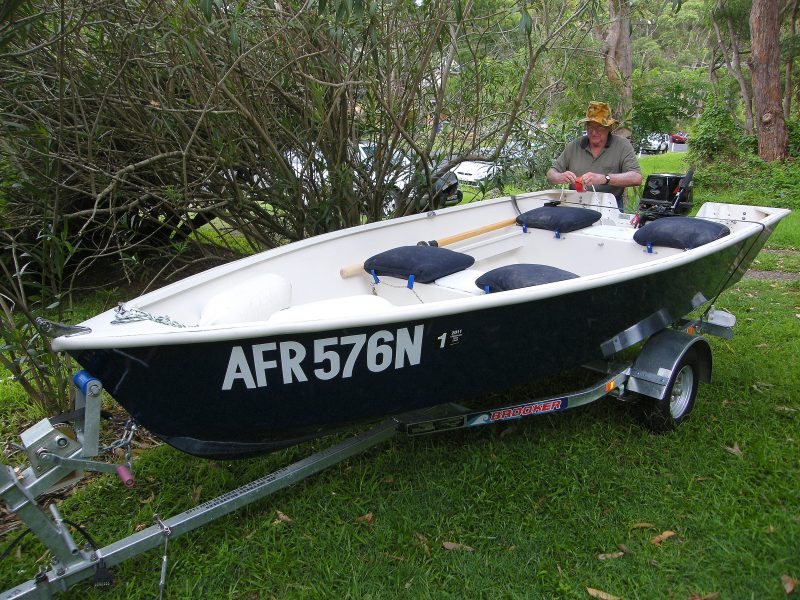 Just up from the Coconut slipway, there was a farmer (Ted) who agreed to let us use one of his sheds, so we moved our boat up there and began building it. As usual, other yachties heard that we were building this dinghy for John and Jan and would pop around to have a look.
"Who the dinghy for?" they would ask
"Mushulu" Id reply
"Oh...Ok"
You see, when you live on a yacht, no one knows your last name. The name of the boat "becomes" your last name. In this case it was John and Jan from Mushulu...the "name" of their Trimaran. Now you know where the name comes from.
As for the design itself, you see, as a tender, your boat is akin to a work truck.. With fuel runs, water funs, shopping runs and not including the exploring and fishing, tenders get hammered hard. One of the biggest problems with the majority of dinghies is the freeboard is too low and they are heavy. Doing all these things and more, any water or waves when loaded has a habit of slopping over the side. (Nothing worse than having wet shopping bags I can tell you). So the first thing I designed into the Mushulu was high sides.
They also have to be light, but not too light as it makes for poor sea keeping. They also need to have loads of internal space for carrying things ( when doing a water run, I used to carry 8 x 20 litre jerry cans in ours. Thats 160 litres) and…. when swamped, it must float level.
You would not believe how many times over teh yars where I saw dinghies where they had been left down for the night and a huge thunderstorm or heavy rain would come during the night only to see these dinghies with their outboards attached…sunk and lying on the bottom. With ours, if it rained, the dinghy simply filled (still floating level) and the excess water would simply drain out over the top of the transom. All I had to do was jump in, bail the water out and 10 minutes later …go wherever. No problems. It was surprising how many "Mushulu's" we built for various yachtes over the years when we lived on our yacht. It was a proven design and it work like magic not only as a work truck, but also as a fishing and exploration dinghy..even offshore.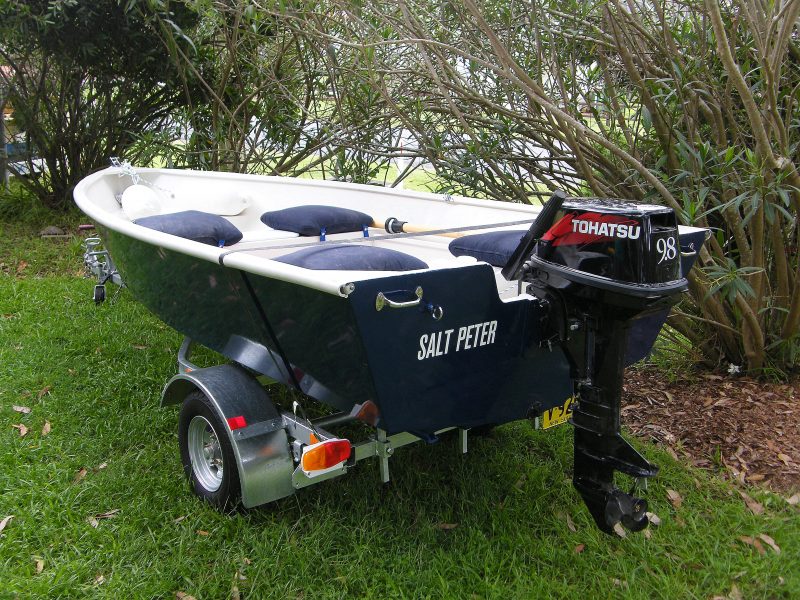 Anyway… after eleven years of cruising throughout Australia and Asia (we were in Singapore preparing the boat for a cruise to Japan when Sept 11th happened, everything changed. The whole mood of cruising took a different outlook and things were no longer the same.
So with this in mind, we sold our 42 ft Catamaran "Inflight" and moved back ashore. It was here that I found my old "Mushulu" plans and later when we started BMD, we decided to bring the design out as a part of our plan portfolio.
Anyway, there it is...the history of the Mushulu 12 and its name

Anyone can Build a Boat. Its that Easy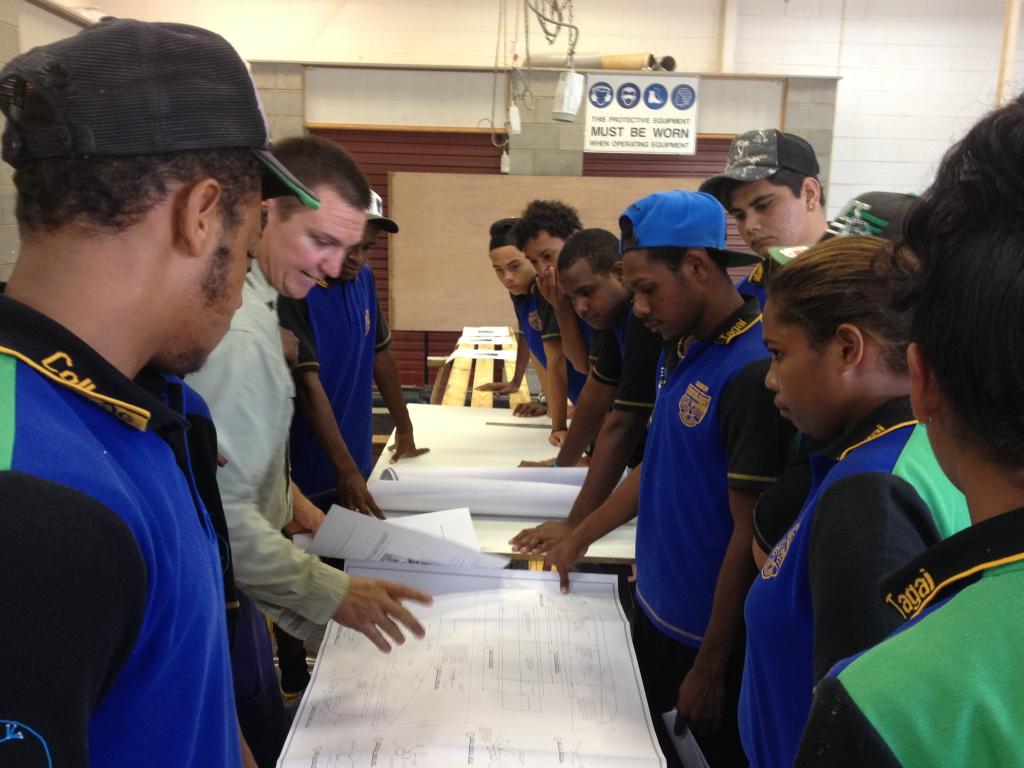 Anybody can build a boat

using the Bowdidge Marine Design Plywood Composite system. This method eliminates many members that ordinarily require fitting, fairing, and beveling. Thus, it's ideal for beginners. A jigsaw and drill are about the only power tools required. The resulting boat is incredibly light weight, strong, and durable.
This quick and easy boatbuilding method consists of plywood planking panels cut to shape from patterns in the plans which are "stitched and glued" together at the seams. Such a boat can be assembled in a matter of hours after cutting out the parts.
The stitching is done with plastic electrical ties passed through small holes along seam edges. These are zipped tight to hold the panels together. The glue is then applied between the stitching and also on the inside in a cove-shaped fillet along the seams, along the outside and inside. After curing, the "stitching" is removed and the gaps filled. Then the hull is covered in glassed.
Plans for all our designs include instructions, material layouts, and material listings. In addition, the patterns provided are precise, since they're taken from the actual 3D modeling and CAD systems.
Just a few of the Mushulu 12 Launchings