For our builders we offer full size printed bulkhead/ frame patterns, printed on 24" wide paper which are taped together to provide fulls size outlines. Using the full size patterns and detailed plan sheets, the parts can be accurately marked and cut out. All Plan sheets are printed on Architectural D (24" x 36" ) paper except for the full size frame patterns. 
SPECIFICATIONS:
- Overall Hull length ......16 ft ( 4.87m)
- Beam ...... 6ft- 6in (2.0m)
- Deadrise @ Transom ...... 18 degrees
- Engine shaft length ...... L/S (20")
- Recommended Hp ...... 70-90 Hp
- Fuel Capacity ...... 100 litres ( 26.4USG)
Approx Hull Weight only .... 555 lbs (250 kg)
Australian Builders Plate Compliant
- Construction …. Epoxy Fibreglass Plywood Composite Construction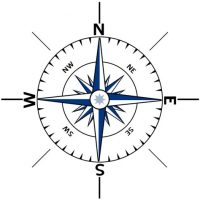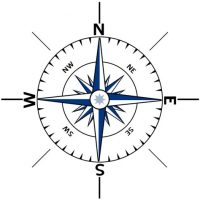 The Shoreline 16 was designed to a simple, yet over-riding principle - fun follows function.
Packing big boat features into a compact package, the Shoreline 16 features a functional cockpit, ample storage and with all the wide-open spaces of a speed boat. But with all the power and agility of a sportz boat, the Shoreline 16 is every bit as much about family sports, whether it be skiing, wakeboarding or just pushing the pedal to the metal, there's just no limit.
Overall, the Shoreline 16 is designed for individuals and families who simply want to have fun on the water... without breaking the budget.
So what's the difference?
There are a few. The ride. The speed. The handling. The economy.
Where large swells and short waves render shallow V-hull's useless and hard in their ride, the Shoreline 16 is indeed different--and that is only part of it.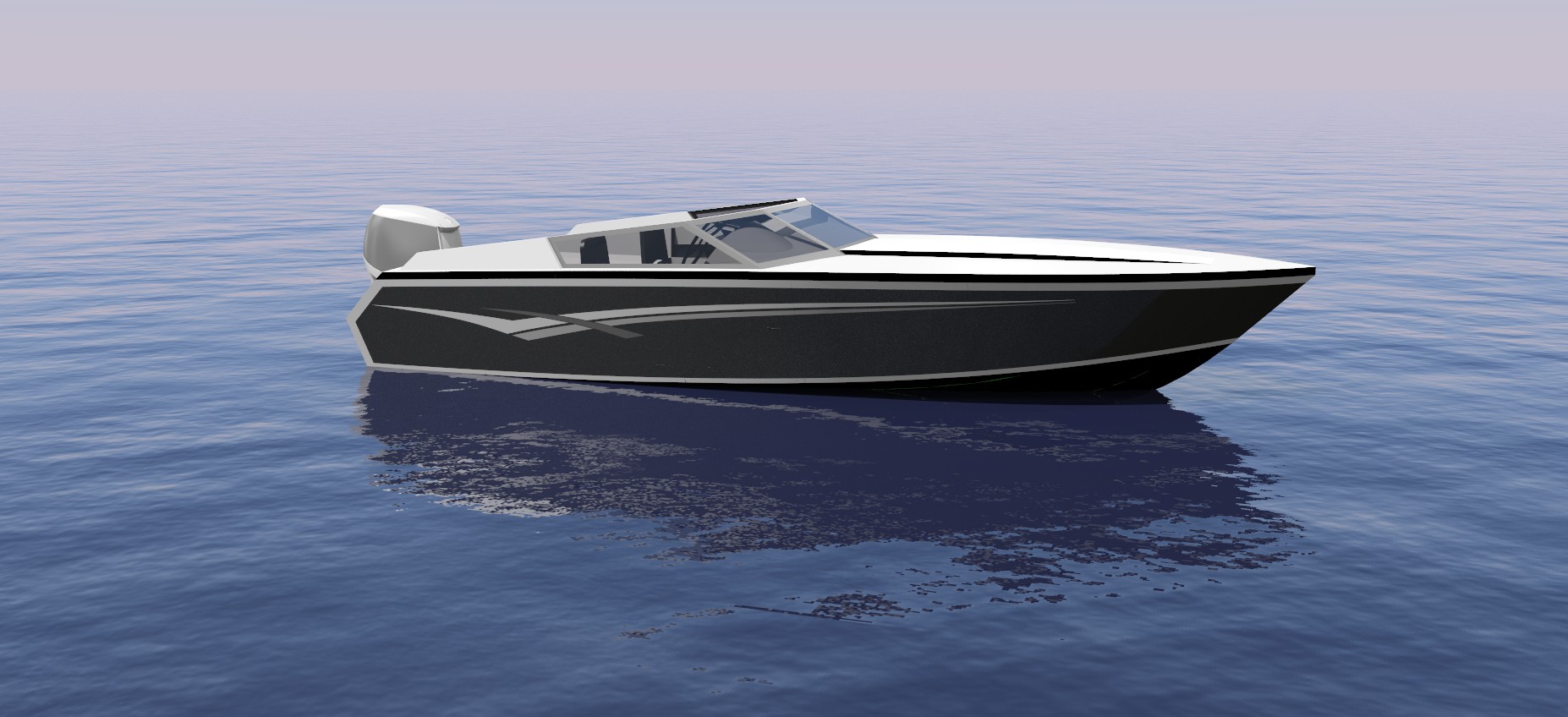 Cutting through open water or sliding across smooth seas- the Shoreline 16 wwith her 18 degree deadrise at transom hull, is designed for strength and maneuverability. Big on standard features and even bigger on performance, the Shoreline 16 is ideal for families that truly enjoy time on the water. Measuring 4.87m (16ft) with an ultra-stable 2m (6ft- 6") beam, the Shoreline 16 with her recommended Horsepower of 90HP, provides ample power to pull skiers or tubers while delivering a smooth, comfortable ride for everyone on board. From bow to stern, the Shoreline 16 is an all-out family, freedom, world of fun on the water powerboat!
As the Shoreline 16 exhibits a timeless style and smoothness of its lines-it doesn't stray from its heritage and its performance to excite. The result: Exceptional stability and handling in offshore conditions, exhilarating speed and steadfast safety.
Overall, the Shoreline 16 is the ideal power boat to suit the lifestyle of the owner who likes to be surrounded by friends, but more importantly..An opportunity to build a boat which is entirely and exclusively yours.
That's the difference.
We do not offer CNC files for this Design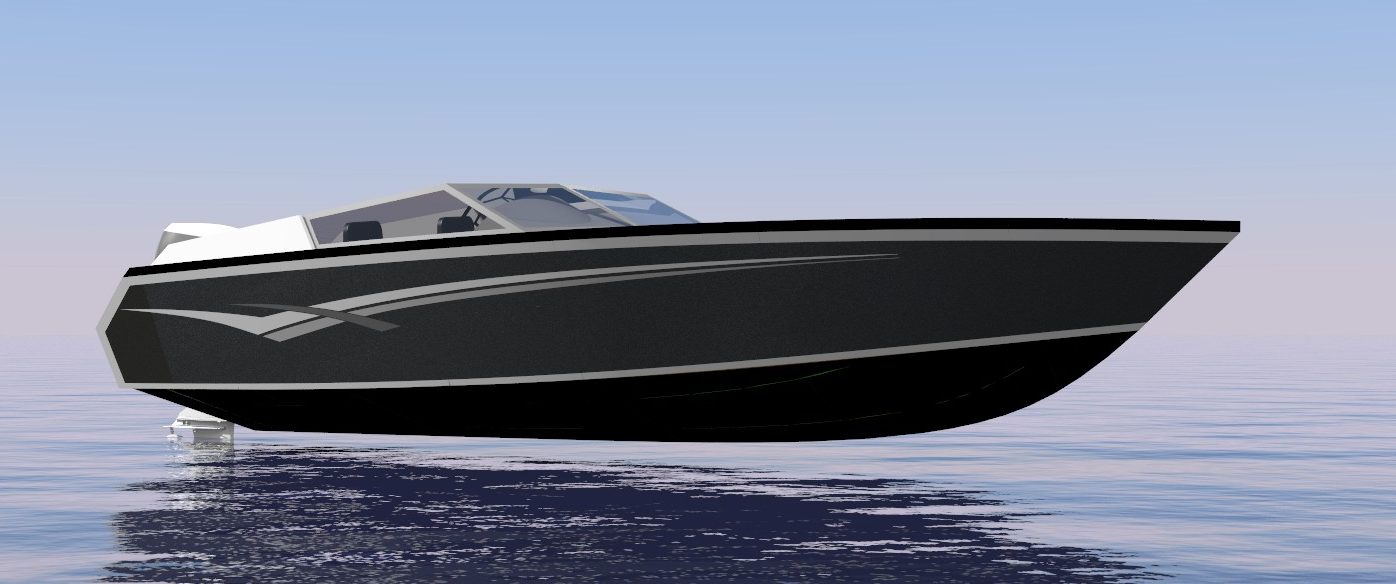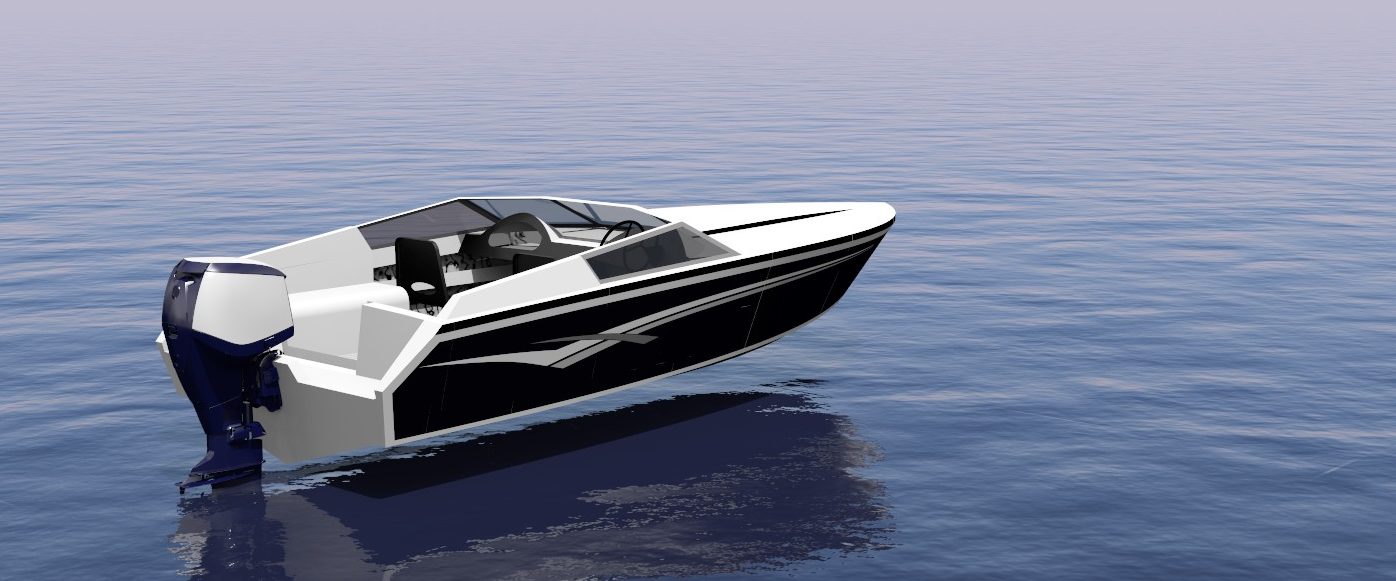 MATERIALS LIST FOR THE SHORELINE 16
The following list of materials is approximate and intended for calculation of approximte costs. We offer no guarantees of accuracy. The list is for all plywood in the construction of the hull, deck and interior. Allowance has been made in the quanties for about 10% wastage. Resin and glass quanties are only approximate.

MARINE BS 1088 OR AB GRADE PLYWOOD
plywood size's are based on 8ft x 4ft (2.4m by 1.2m) sheet size
6mm (1/4") - 13 Sheets
9mm (3/8") - 8 Sheet
12mm (1/2") - 3 sheets

RESIN AND GLASS (For coatings and reinforced areas)
Epoxy Resin & Hardener - 120 kg (19 US gal)
400-450gm (12oz) Double Bias - 75 m ( 71 yards)
200gm (6oz) cloth - 5 sq.m
2 kg (4.4 lbs) glue powder (Cabosil)
3kg (4.4 lbs) Q-cells (fairing Powder)

The materials list above covers all the supplies for the boat as designed.
Useage of materials may vary due to several factors. For example, a experienced builder will use less resin. Our resin calculations are based on a 50% glass content.
Options, customization and variations within your build will also effect the bill of materials and outcome.
Anyone can Build a Boat. Its that Easy
LIQUID ENGINEERING:
The construction of the Shoreline 16 is epoxy-fiberglass-plywood composite, a system engineered to class rules (ABS) and designed for efficient and fast building. To put it another way, the hull material is engineered as a fiberglass laminate whereby the plywood is treated as a weaker laminate within the fibreglass schedule.
Building the boat is easy. The builder simply assembles the 6mm (1/4") plywood hull over the 9mm (3/8") bulkheads and longitudinal's upside down on the strong back which becomes a part of the permanent structure,. Then its time to begin gluing and glassing the exterior and interior with E glass (Double Bias), forming a strong plywood composite hull without all the time consuming woodwork associated with traditional plywood on frame. Then its time to begin fitting the internals and finally bogging, fairing and painting the hull. Its that easy.
DO NOT BUILD THIS BOAT AS FOAM CORE CONSTRUCTION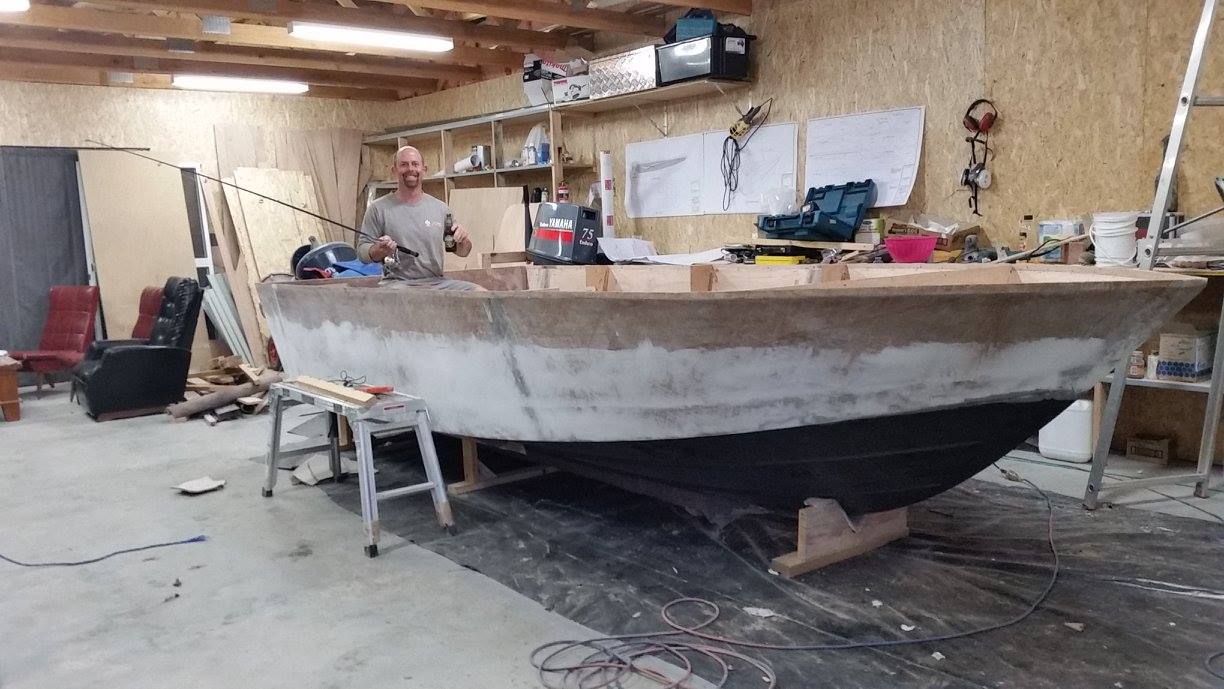 Just about anybody can build a boat using the Bowdidge Marine Design Plywood Composite system. This method eliminates many members that ordinarily require fitting, fairing, and beveling. Thus, it's ideal for beginners. A jigsaw and drill are about the only power tools required. The resulting boat is incredibly light weight, strong, and durable.
This quick and easy boatbuilding method consists of plywood planking panels cut to shape from patterns in the plans which are "stitched and glued" together at the seams. Such a boat can be assembled in a matter of hours after cutting out the parts.
The stitching is done with plastic electrical ties passed through small holes along seam edges. These are zipped tight to hold the panels together. The glue is then applied between the stitching and also on the inside in a cove-shaped fillet along the seams, along the outside and inside. After curing, the "stitching" is removed and the gaps filled. Then the hull is covered in glassed.
Plans for all our designs include instructions, material layouts, and material listings. In addition, the patterns provided are precise, since they're taken from the actual 3D modeling and CAD systems.
Thinking of building a BMD design? 

Want all the LATEST NEWS and more?
Well, why not subscribe to our Newsletter, catch up with the News, Builds, Launchings, Technical articles, Fishing and more..
All this and more...plus...Whats even better... 

 
95% of our clients have never built a boat before !