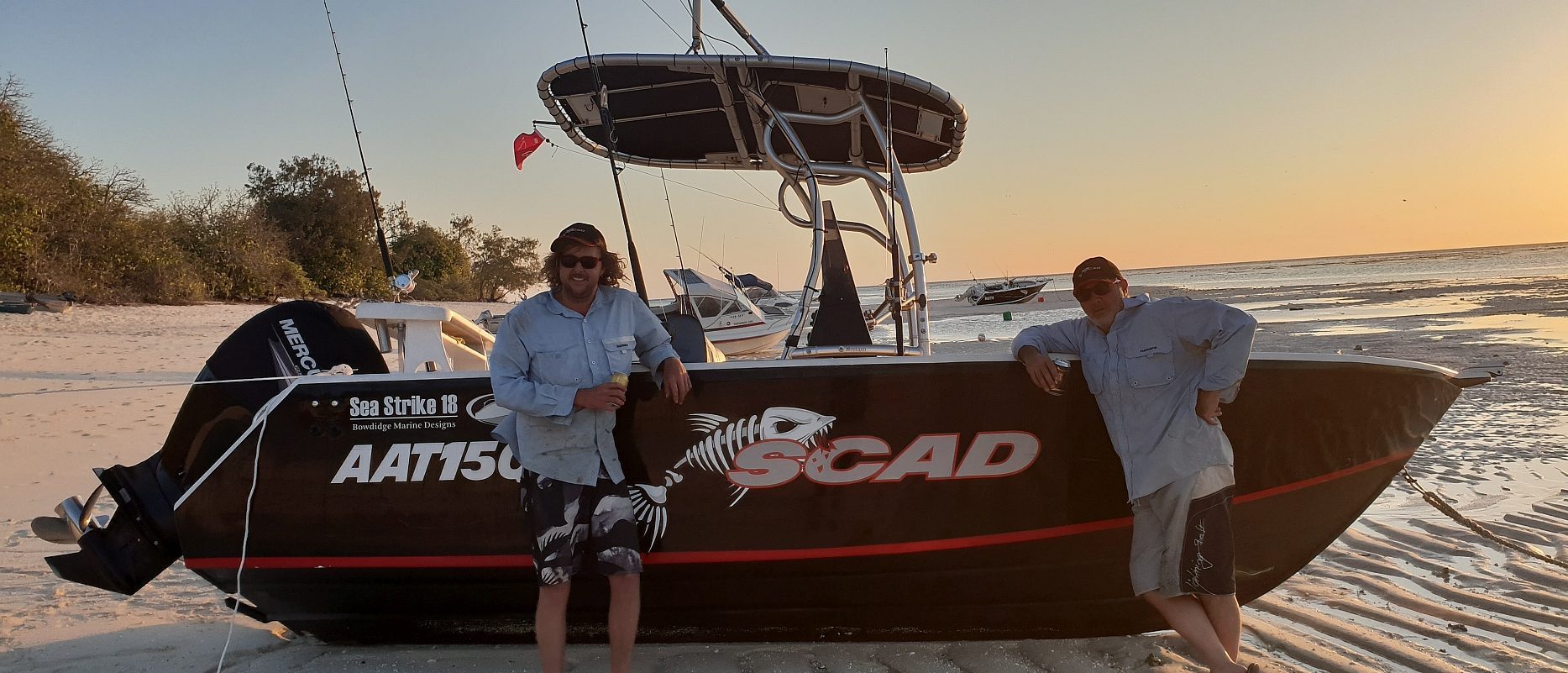 COMPLETE BOAT PLANS & FULL SIZE FRAME PATTERNS
The plans have all the information you need to build your own boat... Each plan contains all the construction drawings, everything you need to build your boat.
Plus.... you can also join our private subscription based BOAT BUILDING FORUM if you wish, to assist with your build The plans are printed on 2ft by 3ft paper for normal construction drawings and and full size paper patterns.
By using the full size patterns and detailed plan sheets, the parts can be accurately marked and cut out.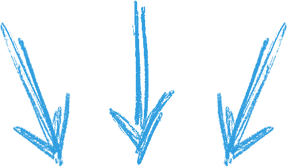 The
Sea Strike 18

is a true player and built big to handle any conditions Mother Nature throws its way.
With her deep-"V" 23 degree variable dead rise hull and utilizing the same high performance and fuel efficient hull design as its smaller sister the Sea Strike 16, the Sea Strike 18 is designed from the ground up, delivering everything the passionate offshore fisherman or family day boat demands... plus more.
Features include a live well, enormous total fish box capacity, walk through transom, a huge cockpit area aft and large casting platform forward for where all the action is on your offshore fishing rampages, wide side decks for all your rod holders, side pockets and more and a 200 litre fuel tank for those long offshore runs. And for those family day outings, it even has the option for a bow rider seating arrangement.
With our tournament-proven hull design, delivering top-end speeds, superb economical cruising speeds and great handling through a variety of conditions and a ride unlike any other, the Sea Strike 18 comes with more standard equipment and unique, pro-level fishing features than any boat in its class. Coupled with her deep v hull, the Sea Strike 18 will get you there faster, drier, and smoother than the rest.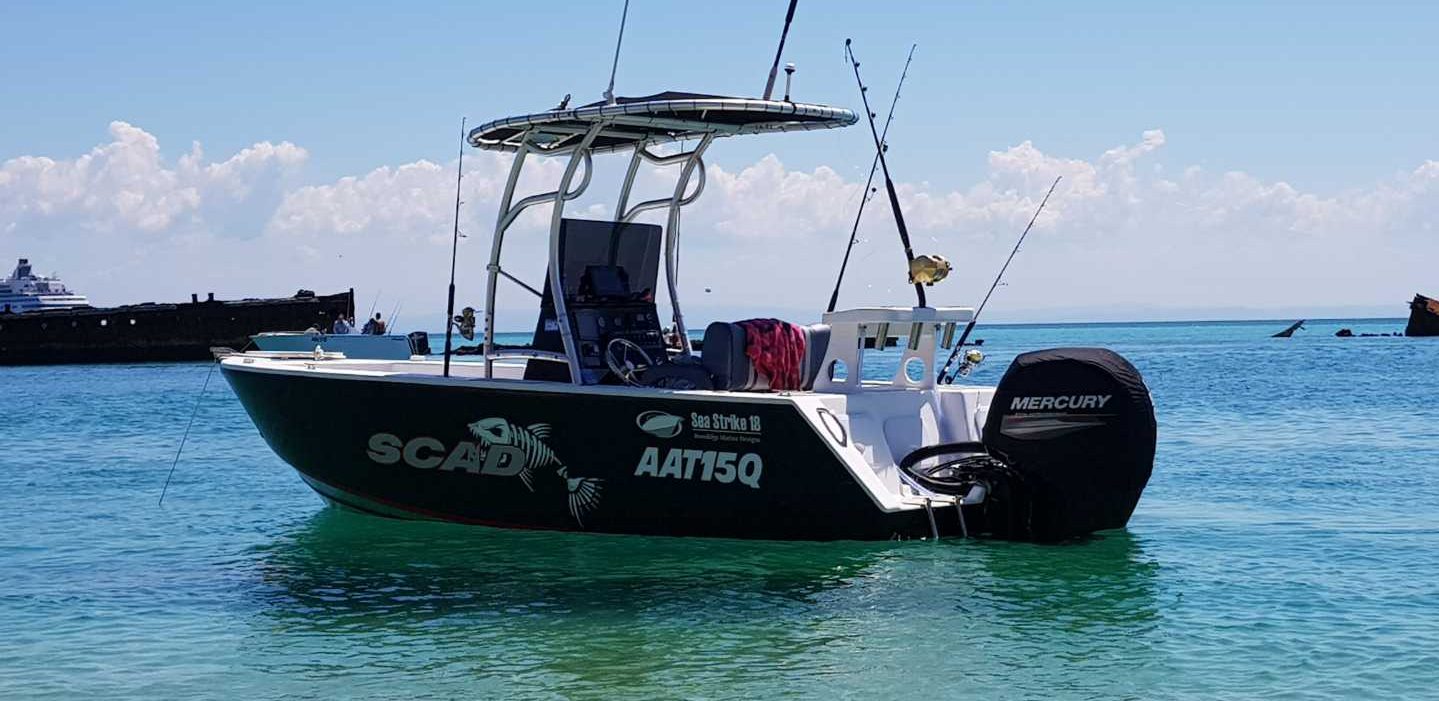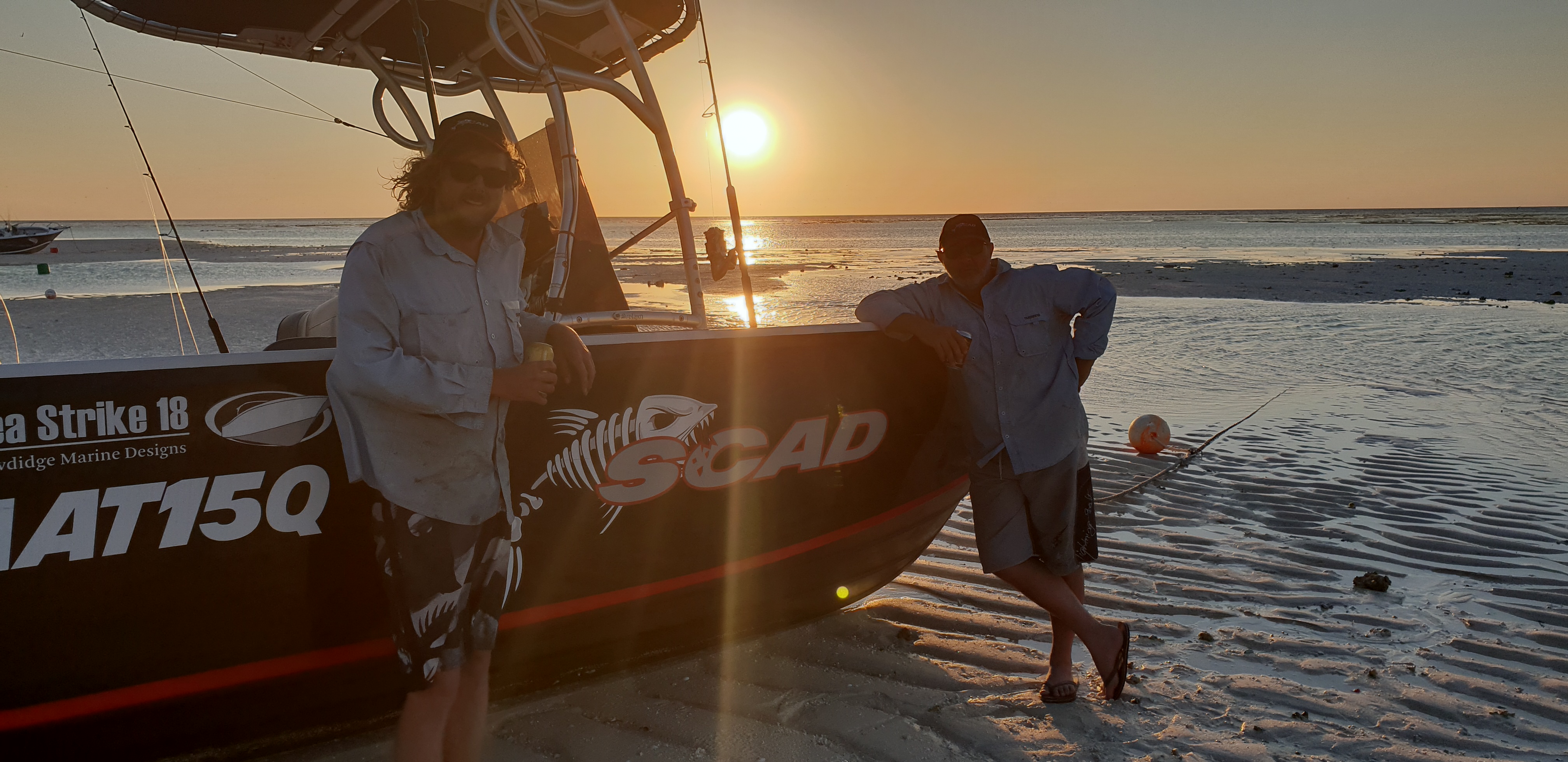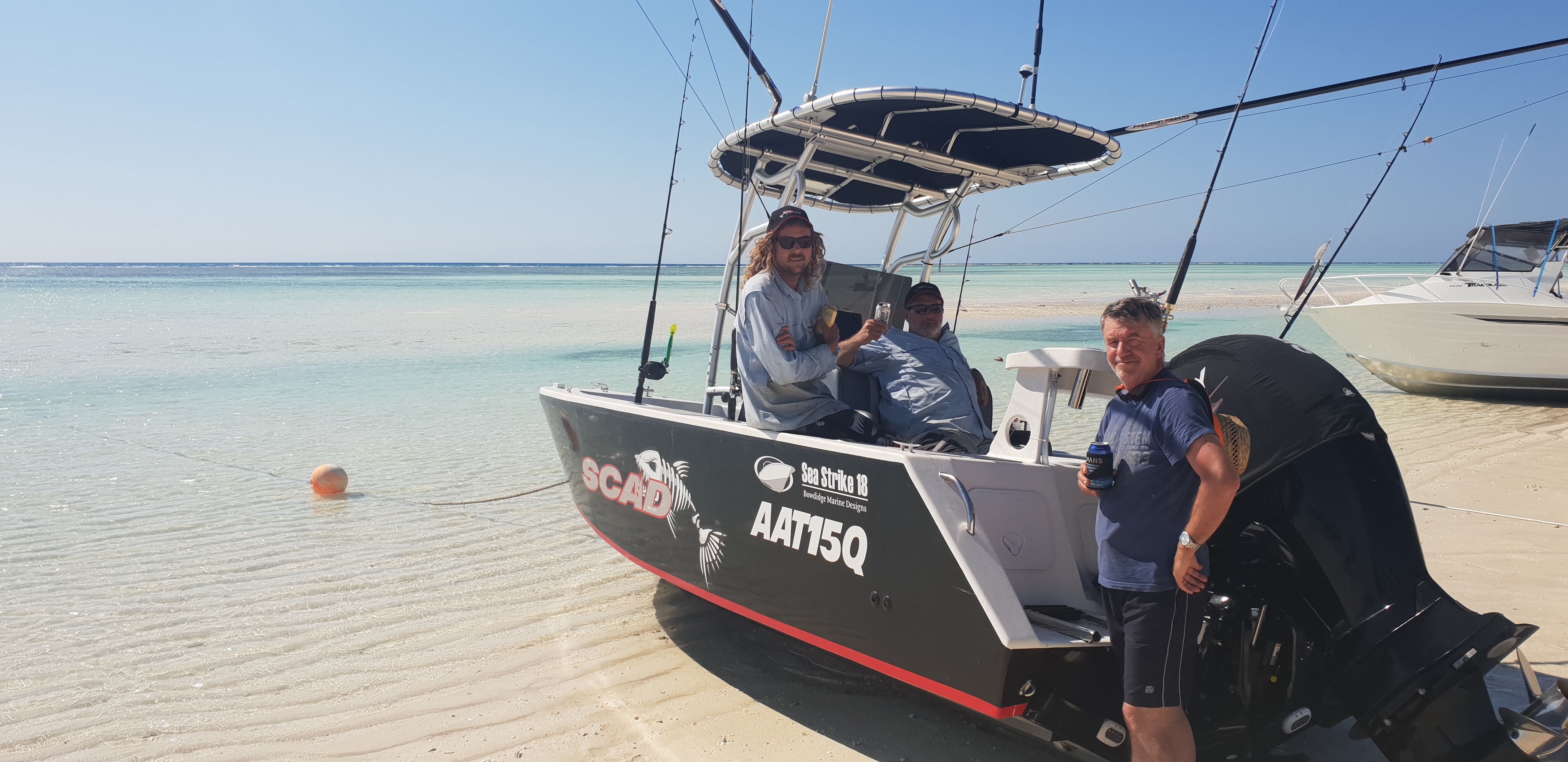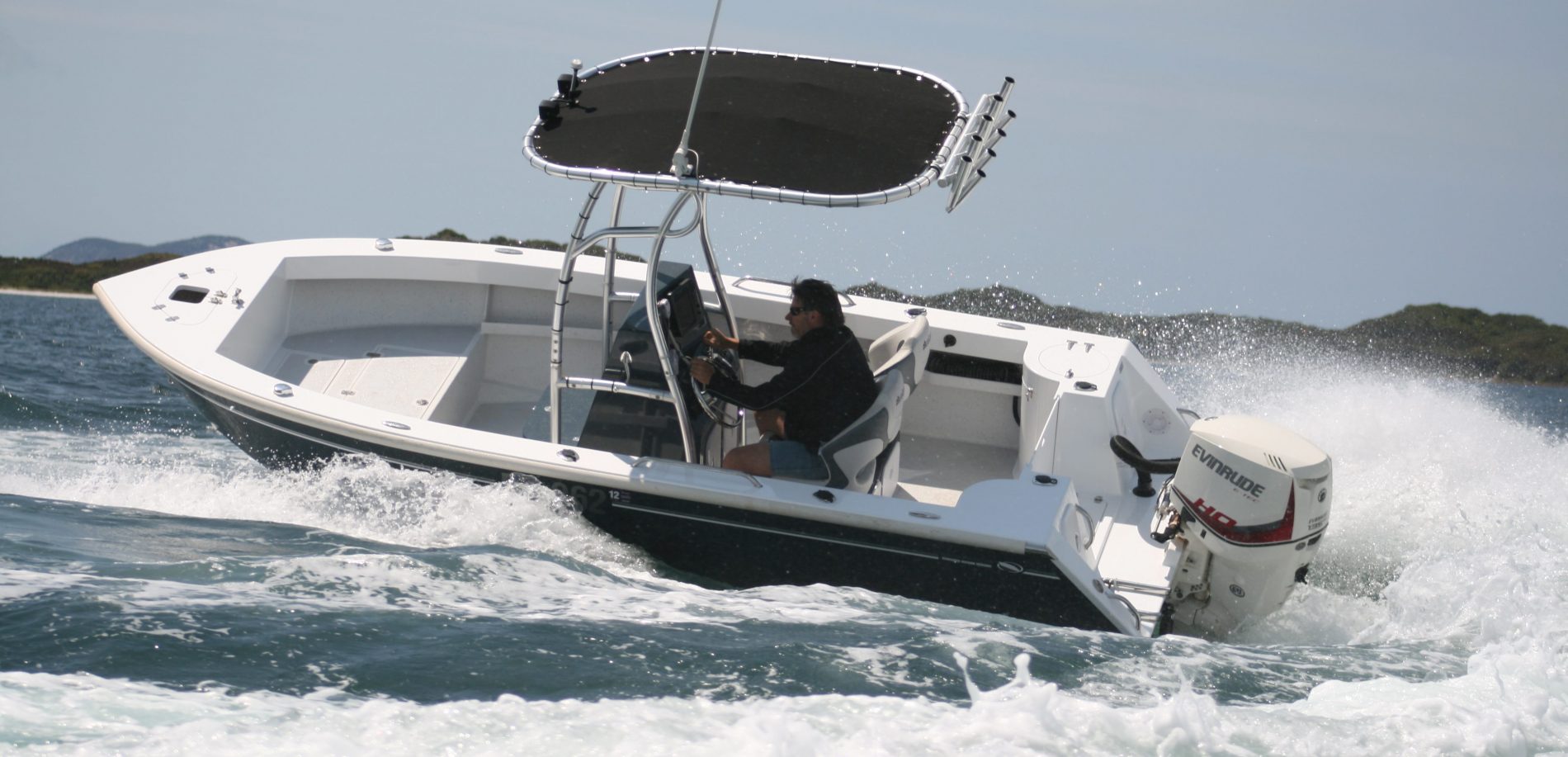 Pete's from Albany (Western Australia) Comments:
My boat building journey began a little over 2 ½ years ago. I started off by researching aluminium boat kits. I quickly came to the conclusion that my welding skills would need to be improved, and both my welding and metalwork equipment would need a serious upgrade (which in essence meant a substantial financial injection) to get to the point where I would feel confidant to undertake that project.
Not to be discouraged, I began to look at alternative building materials and methods more suited to my skills and tools. I came across Bowdidge Marine Designs whilst Googling. The modern performance driven boats immediately caught my attention, and a subsequent not-so-quick telephone conversation with Mark soon had me convinced that one of his designs would be the boat I would build… the hard part was going to be choosing which design.
I had pretty much settled on the Sea Strike 16 but expressed to Mark that I thought a larger version would be more suitable to the conditions we experience here on the southern tip of WA. Much to my delight, Mark said that he was going to design a Sea Strike 18.
I received the Sea Strike 18 plans mid October 2012, and although I had never used epoxy and fibre glass before (let alone build a boat) I was given the confidence to tackle such a large project with the help and encouragement from the other members of the BMD Forum, and the wonderful support and assistance from both Mark and Debbie.
My brother and I began marking out and cutting all the parts soon after. The next step was the first bit of epoxing and glassing. With this task successfully under my belt, I slowly progressed thru the build, adding to my skill-set, and sharing my accomplishments, questions, and experiences on the forum. It wasn't long before I was beginning to feel like a "seasoned pro".
Consistency was my main focus. I kept reminding myself to not get bogged down in the nitty-gritty details of the whole project, but rather break the project down into small, digestible, repetitive tasks; and to make sure I took enjoyment and satisfaction from each one of these. Also, I didn't have a deadline to meet, which meant that I could abide by my other motto - "No short-cuts".
I cannot even begin to come up with a figure of how many hours it took me to complete my boat, but I stuck at it, and because of my consistency, I kept knocking-off the "milestones" - hull stitched together and glassed, bottom side painted, hull flipped, sole down, building complete, painting complete, fit-out complete, and outboard installed.
The 18th December 2014 was the incredibly memorable day my boat was finally launched. With her 135HO ETEC hanging off the back, Grant from GB Marine and I cranked her up. Every aspect of the boats performance way exceeded my and Grants expectations. With her 22 degree deadrise, the ride is superbly smooth and dry, stability at rest is amazing and fuel economy is fantastic. Hole shot and top end speed are simply exhilarating, especially when she hits a top speed of 38 kts! (70kph), as you're slicing through the waves and an offshore swell. I couldn't be happier. I have taken quite a few people out, and all have commented on how well she performs. I can assure you that nothing beats the feeling of heading out, effortlessly and smoothly cutting through the swell, in a "kick-arse" boat you built yourself.
Although many people have helped to make my project a reality, I really would like to thank my wife Kylie, my father Ron, my brother Jim, Grant from GB Marine, and last but not least, Mark and Debbie from BMD for designing such an awesome boat.
THOUGHTS ON SEASTRIKE 18- (Grant Stone from GB Marine "ETEC & Suzuki dealership"- Albany, WA)
First impression is the look, lines and layout. Personally I am impressed with all these aspects, as I look at these to determine how we will rig a boat.
Access to chase tubes and size are important too. Being able to position the motor, leaving room for adjustment and fine tuning, whilst looking uncluttered and simple, is most desirable.
Dash layout and room for accessories/electronics is good and ample access is available via large inspection/access hatches.
On the water the boat rests perfectly on her lines, even when two people move forward from the helm position. Forward vision is not impaired by the bow and a slightly higher seating position was provided via a pair of comfortable bosons seats.
Stability at rest is exceptional for this boat and being able to walk around the complete gunwale, bow to stern, port to starboard, without feeling the need to wear a PFD is impressive.

Manoeuvring at the Marina requires very little expertise and turning is easy in confined spaces. Once underway, the boat tracks very true and even when the extra crewman (ballast) moved around, there was no need to trim or adjust the motor to compensate. After some fine tuning to suit the ETEC 135HO/boat set up, the transition from displacement to planing was smooth and very unnoticeable.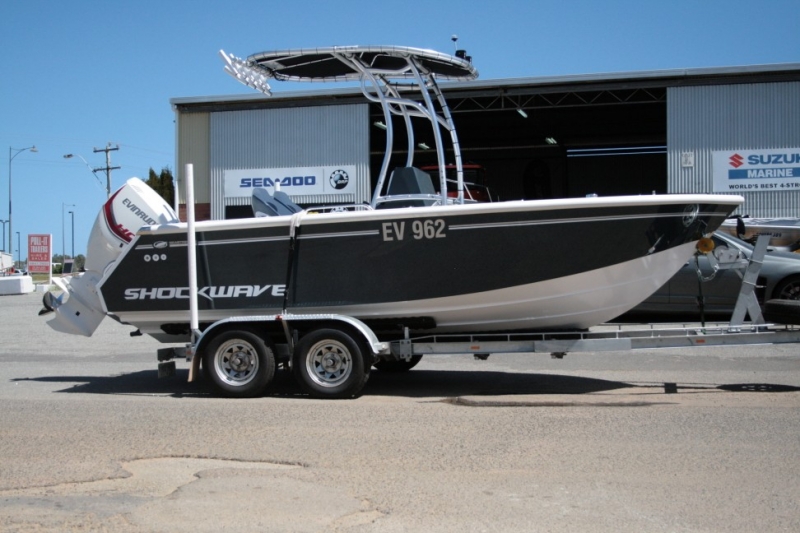 Once under way, I was surprised to find that at 3500rpm, in medium chop and a head wind velocity of 24kph, we were achieving 42.1 kph (23kts) and a fuel consumption of 1.92 kilometres per litre. At this speed, the boat is very smooth and feels solid. Even though trim tabs were installed, there was no need to use them. Coupled with the 200 litre tank, using only 90% capacity and cruising at 42 kph, this boat has a range of 345 kilometres (187nm). Increasing the engine speed just increased the speed and we rode comfortably over the 300-500mm chop. Every throttle movement can be felt through the seat meter.
Once at WOT and hitting 70 kph (38 kts), the only thing I desired was more hp, as this boat is the most viceless centre console I have ever driven! Lots of boats can go fast, but this one turns also. Graceful arcs, gentle turns, easy. But if the mood takes you, full speed hard cornering is fun. I would recommend this hull to even a first time boatie. Its viceless handling, common sense layout and ride throughout being the stand out features.
Credit must go to the designer, Mark Bowdidge and builder Peter Cocking, who did an incredible build for a first attempt at boat building. This boat was a joy to have at our dealership.
SPECIFICATIONS:
- Overall Hull length ......18 ft ( 5.5m)
- Beam ...... 7ft-2" (2.2m)
- Deadrise @ Transom ...... 23 degrees
- Engine shaft length ...... XL/S (25")
- Recommended Hp ...... 120-150 Hp
- Fuel Capacity ...... 200 litres ( 52.88USG)

- Construction …. Epoxy Fibreglass Plywood Composite Construction
Australian Builders Plate Compliant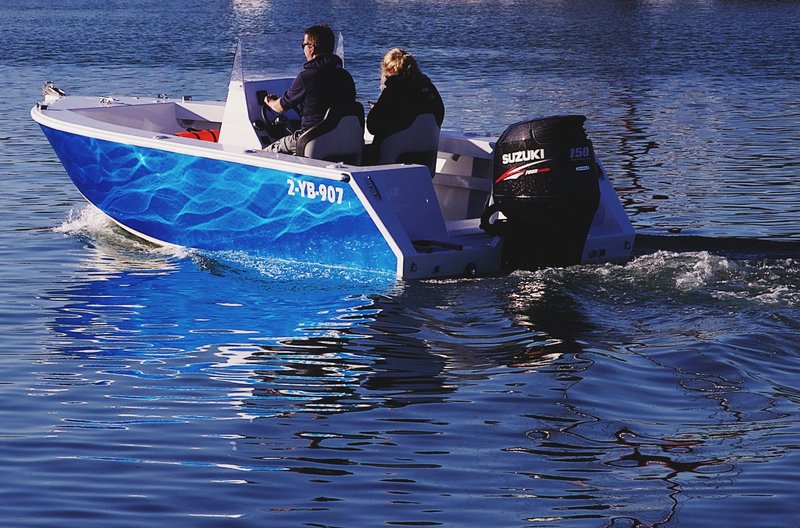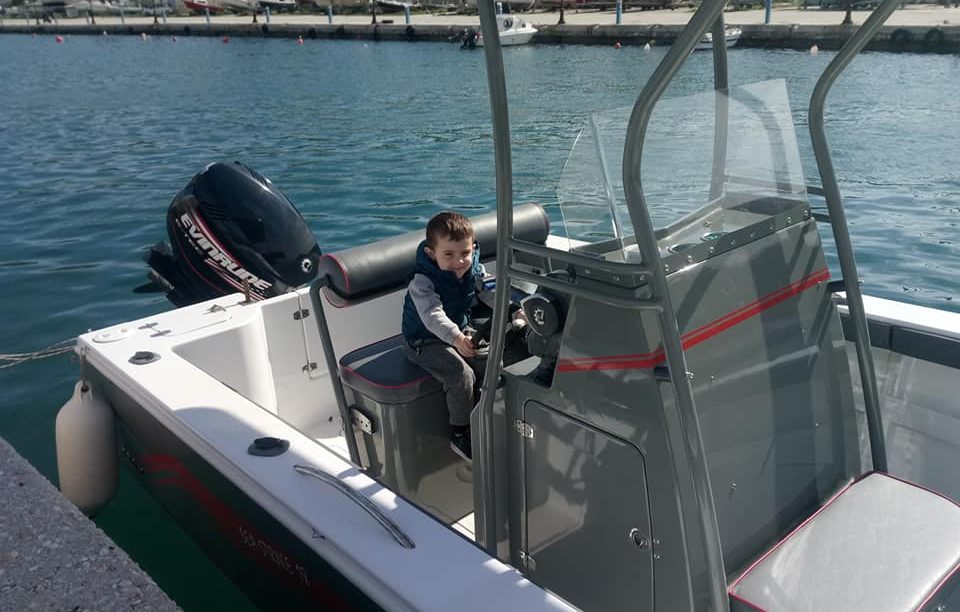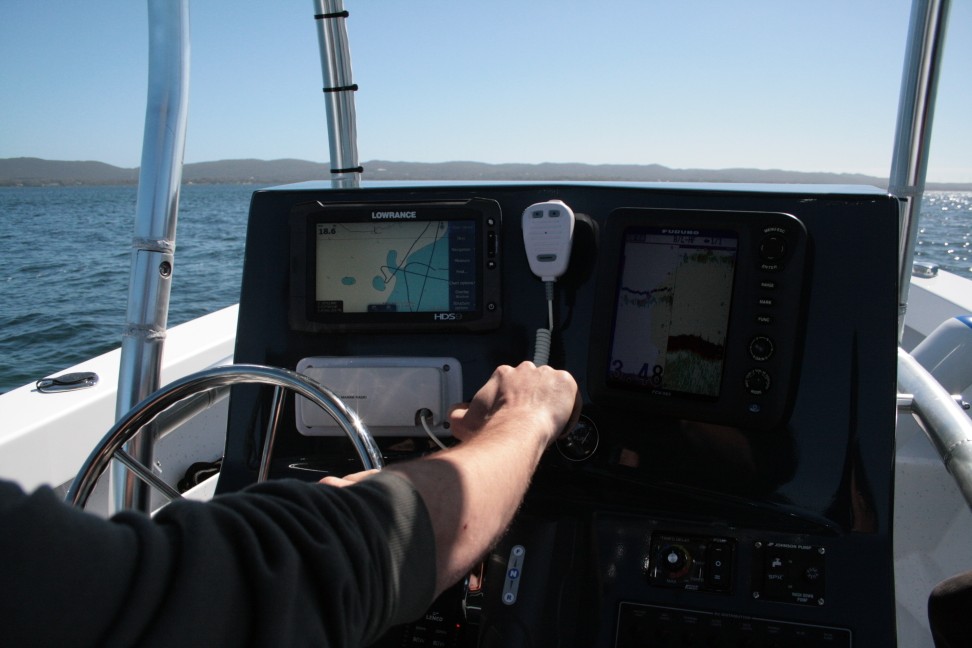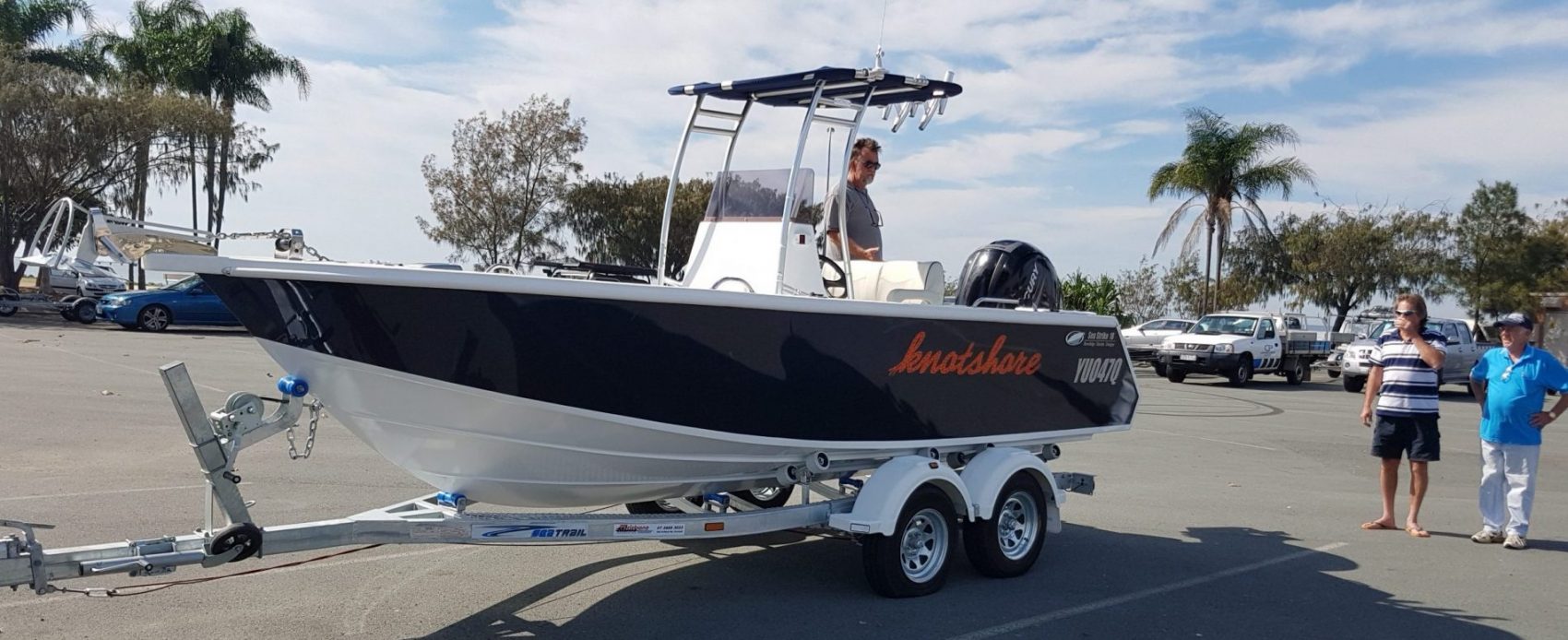 MATERIALS LIST FOR THE SEA STRIKE 18
The following list of materials is approximate and intended for calculation of approximte costs. We offer no guarantees of accuracy.
The list is for all plywood in the construction of the hull, deck and interior. Allowance has been made in the quanties for about 10% wastage.
Resin and glass quanties are only approximate.
MARINE BS 1088 OR AB GRADE PLYWOOD
6mm (1/4") - 11 Sheets
9mm (3/8") - 5 Sheets
12mm (1/2") - 8 sheets
18mm (3/4") – 4 sheets
RESIN AND GLASS (For coatings and reinforced areas)
Epoxy Resin & Hardener - 168 kg (44 US gal)
400-450gm (12oz) Double Bias - 70 m ( 76 yards)
4 kg (4.4 lbs) glue powder (Cabosil)
4kg (4.4 lbs) Q-cells (fairing Powder)
The materials list above covers all the supplies for the boat as designed.
Useage of materials may vary due to several factors. For example, a experienced builder will use less resin.
Our resin calculations are based on a 50% glass content.
Options, customization and variations within your build will also effect the bill of materials and outcome.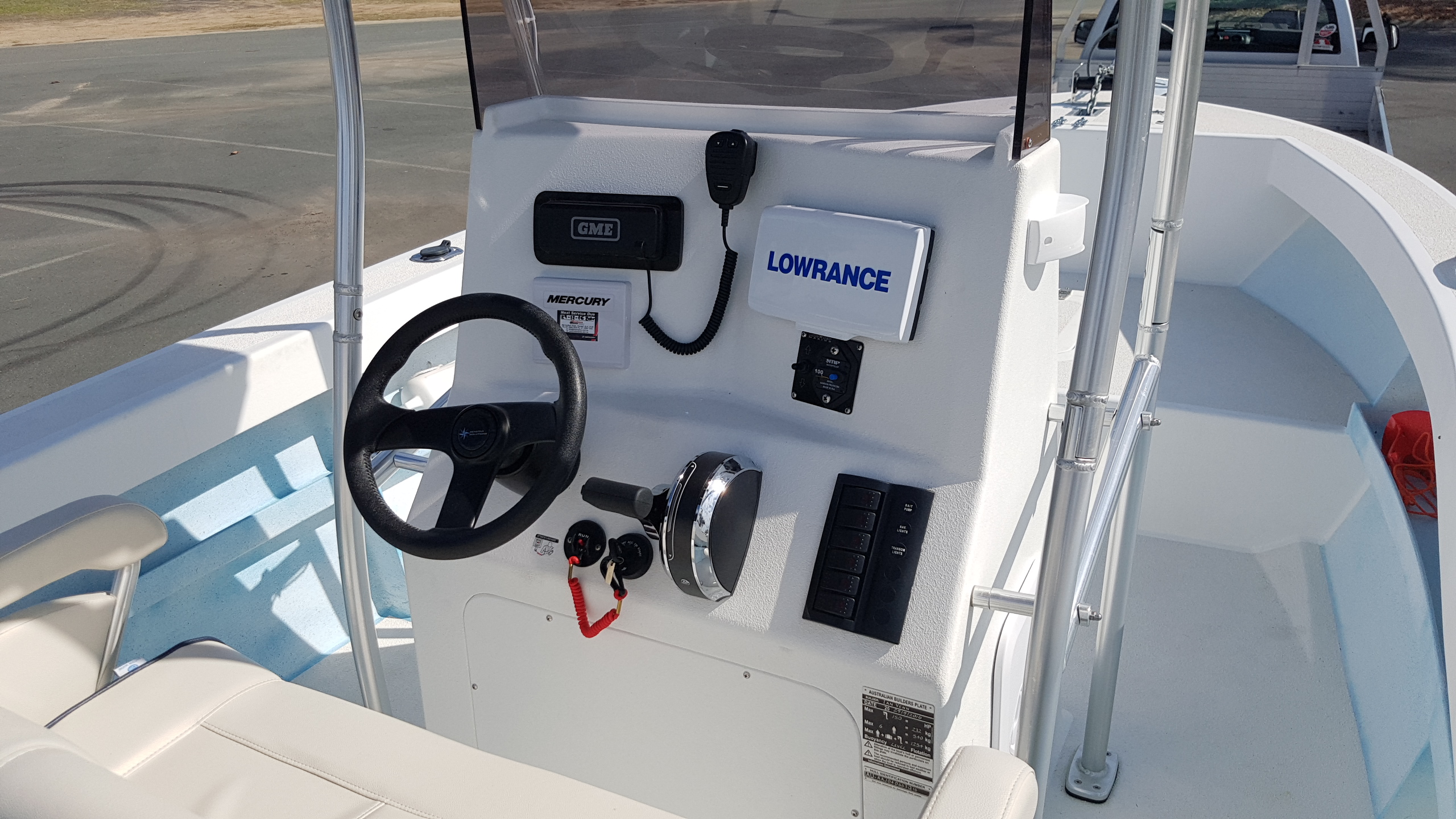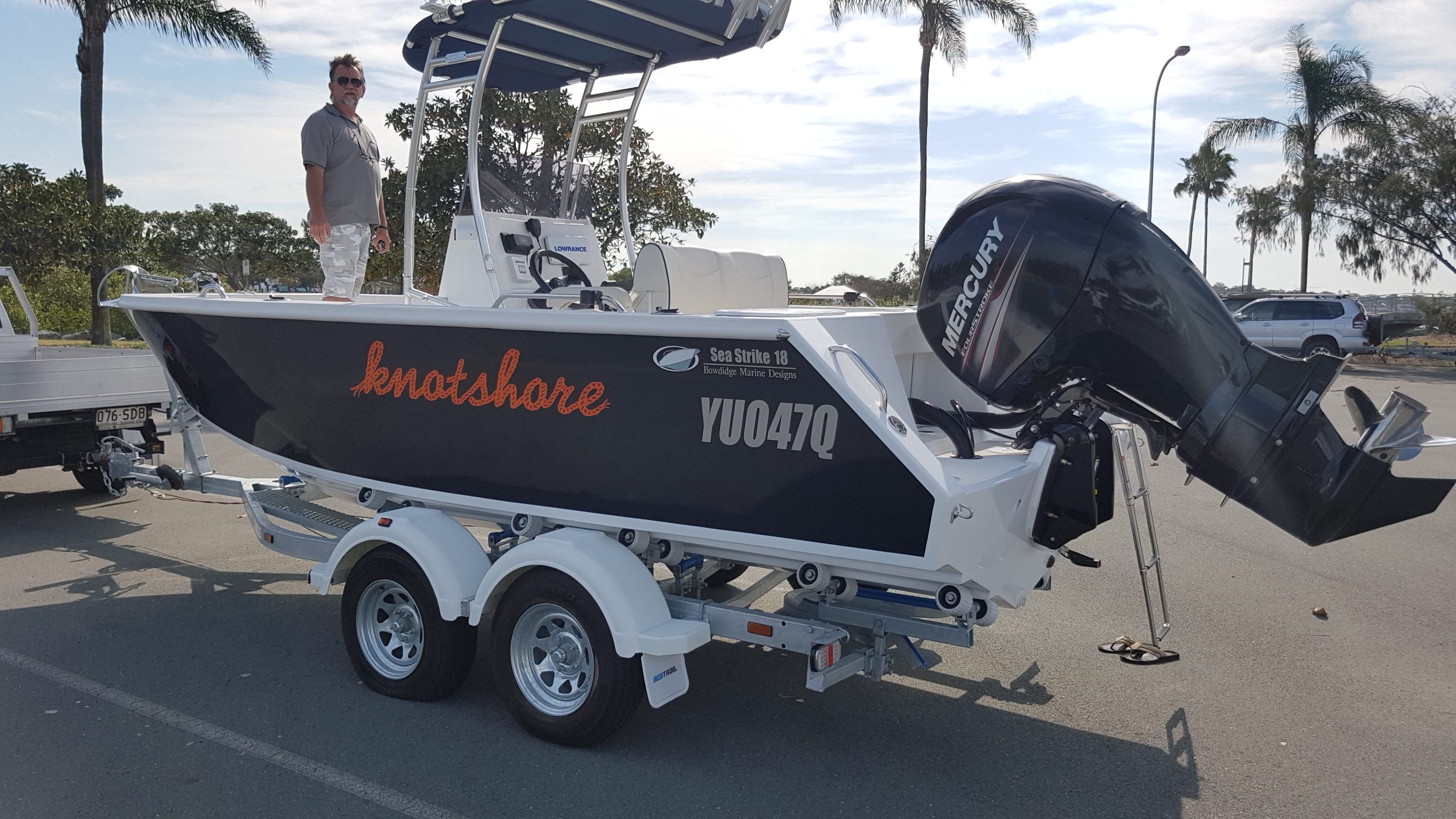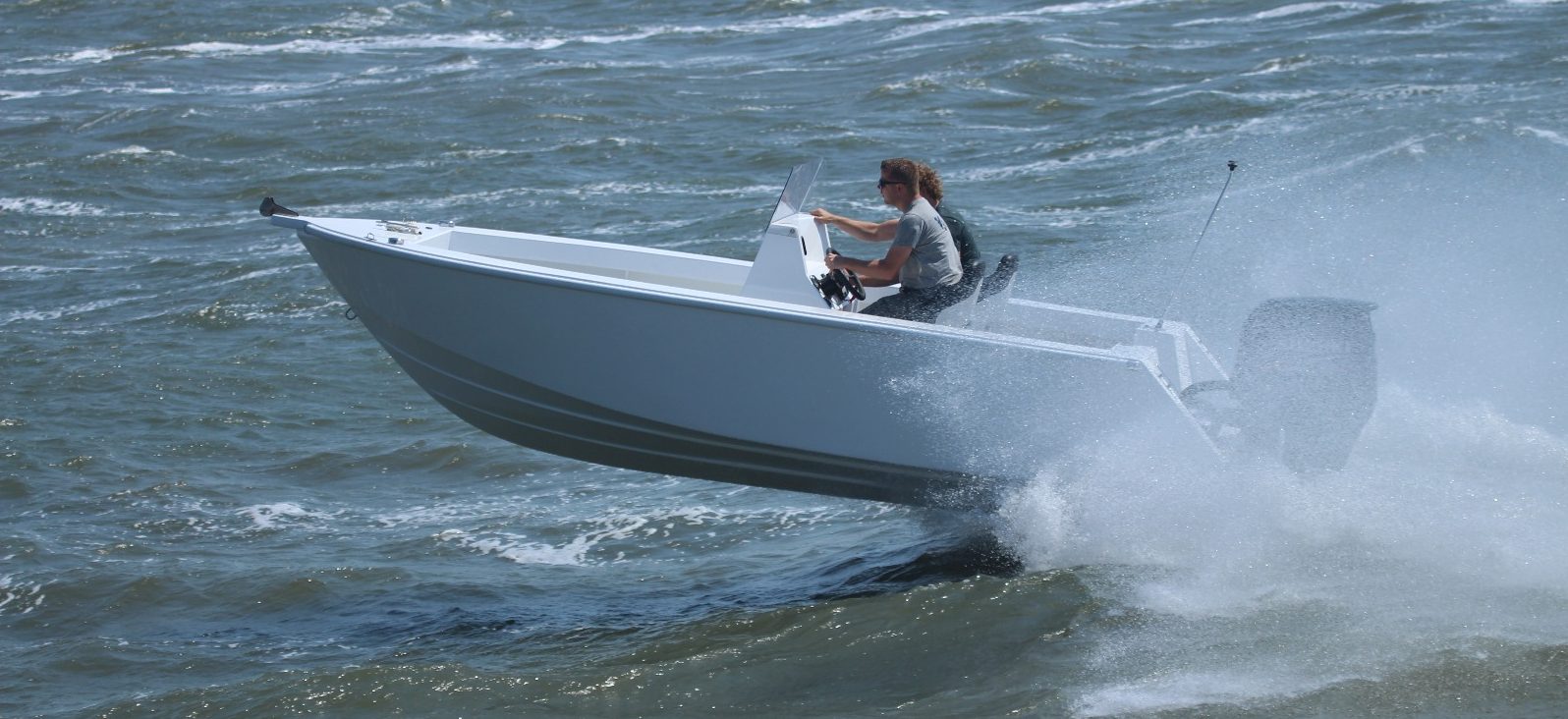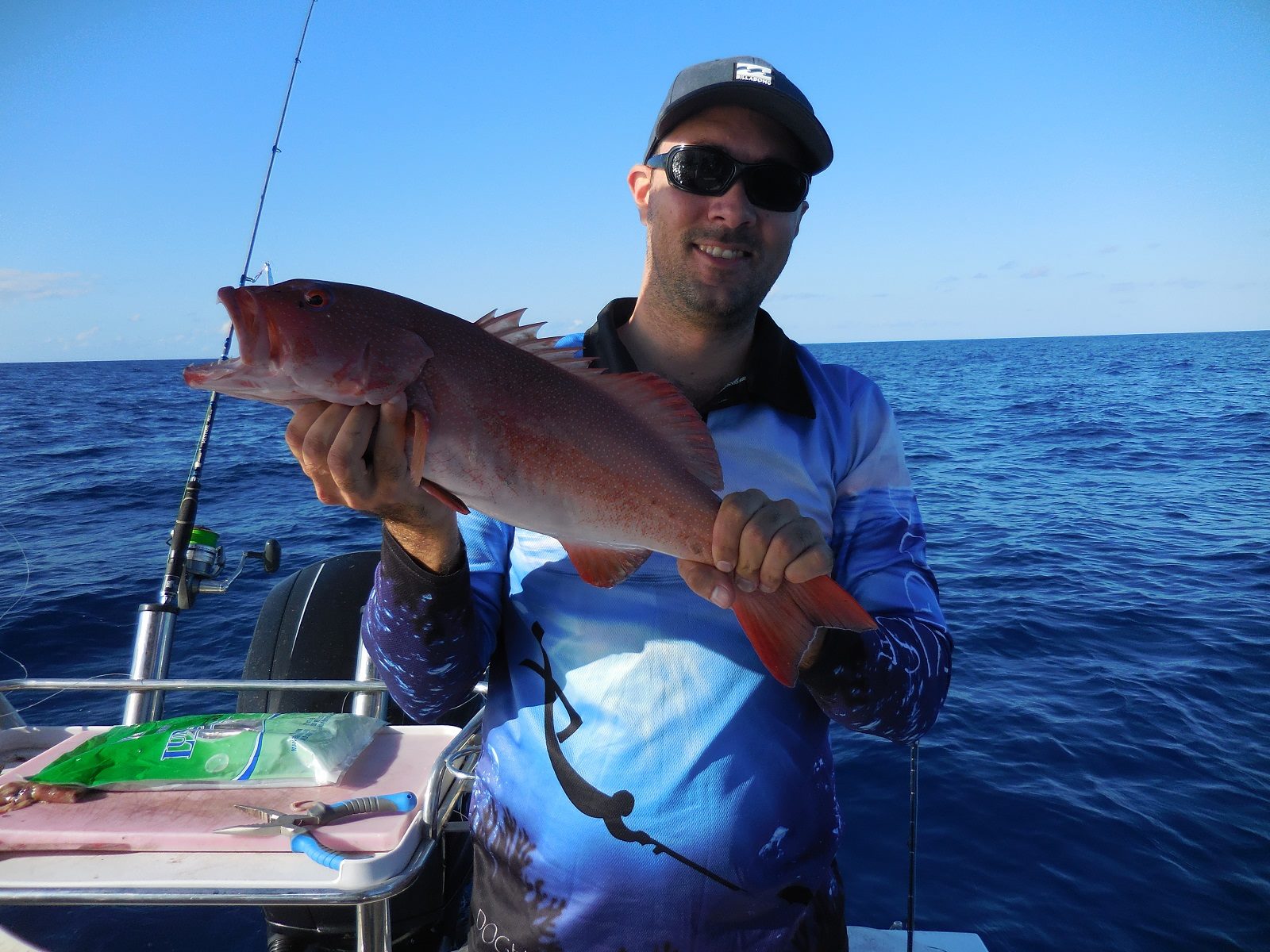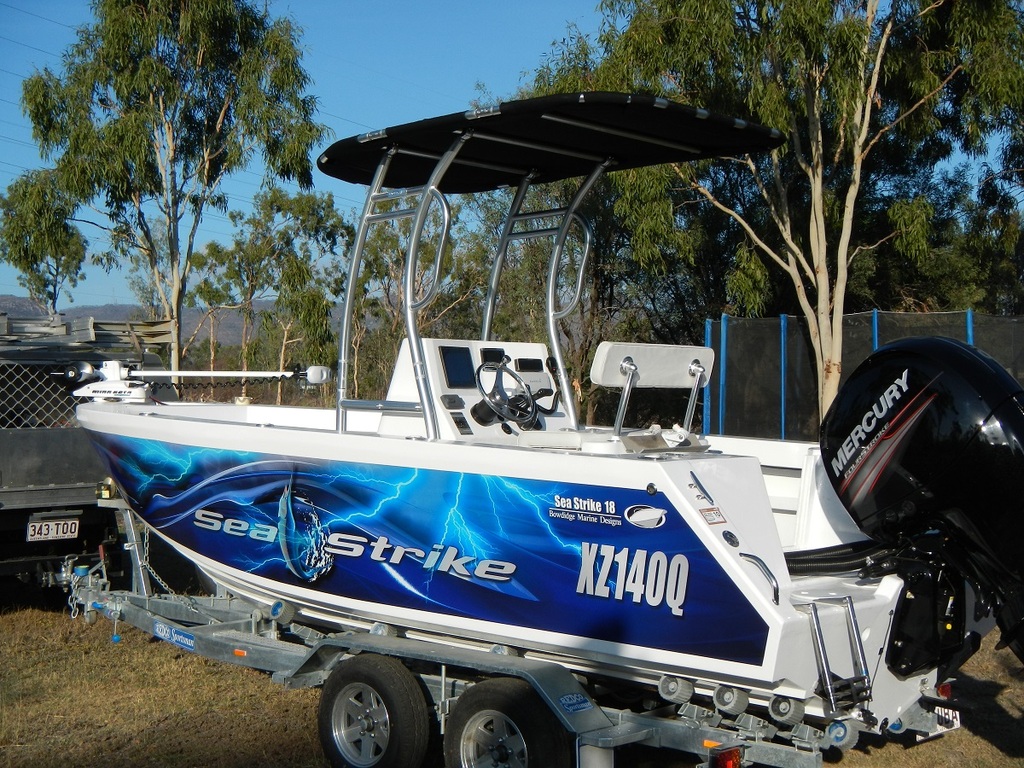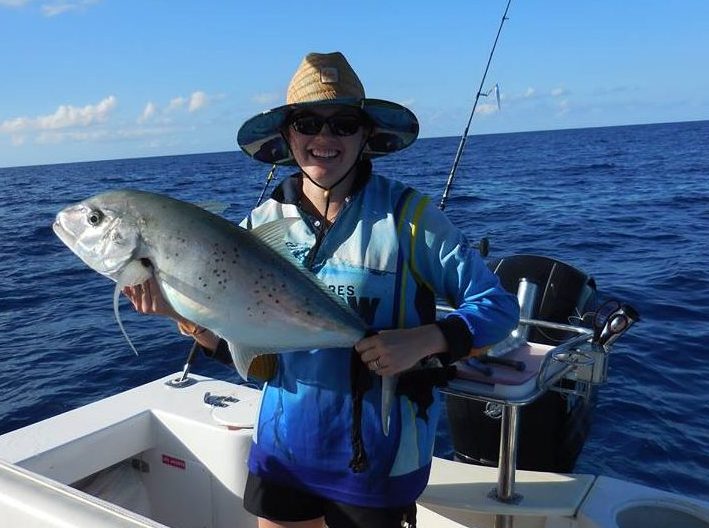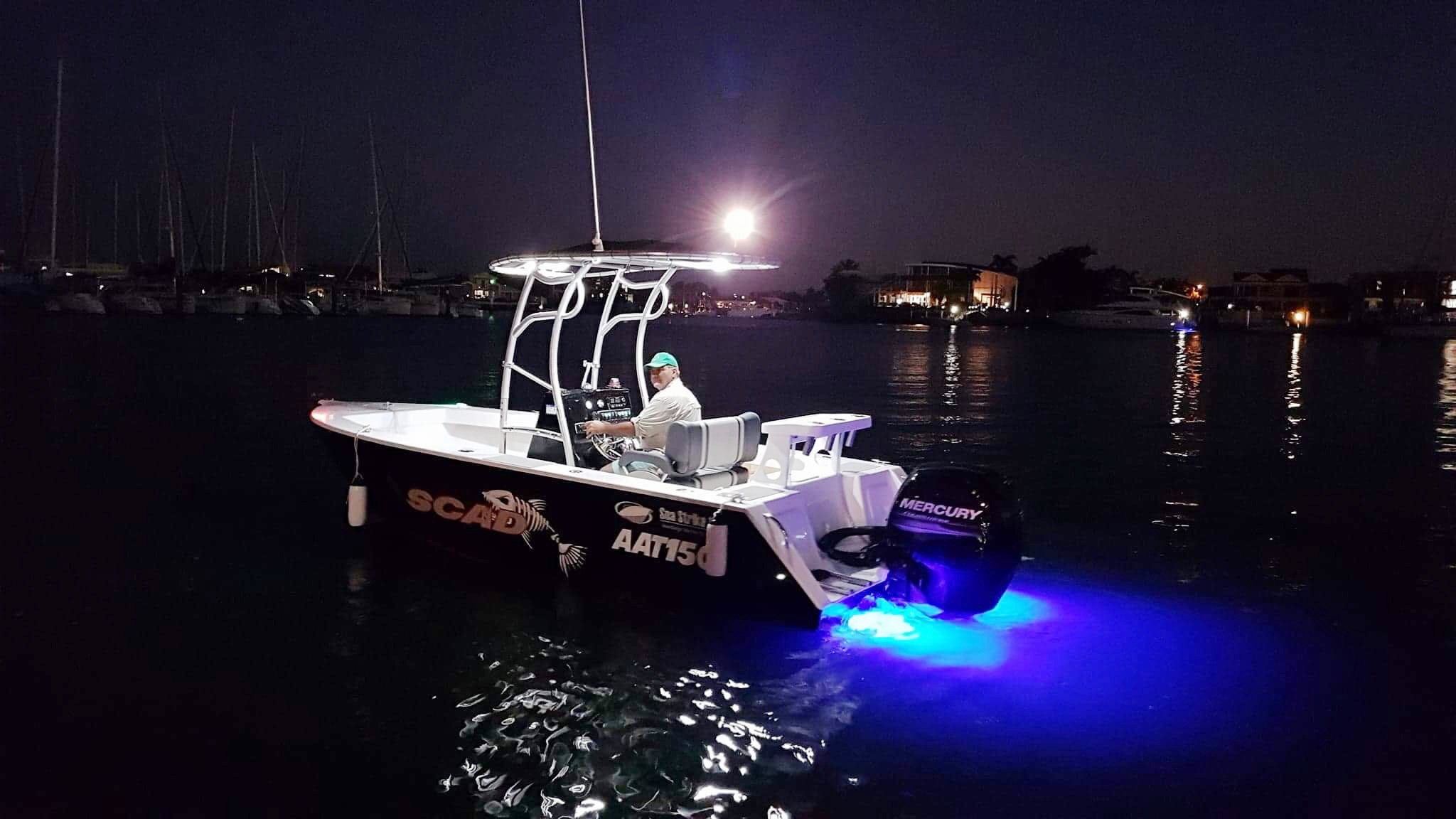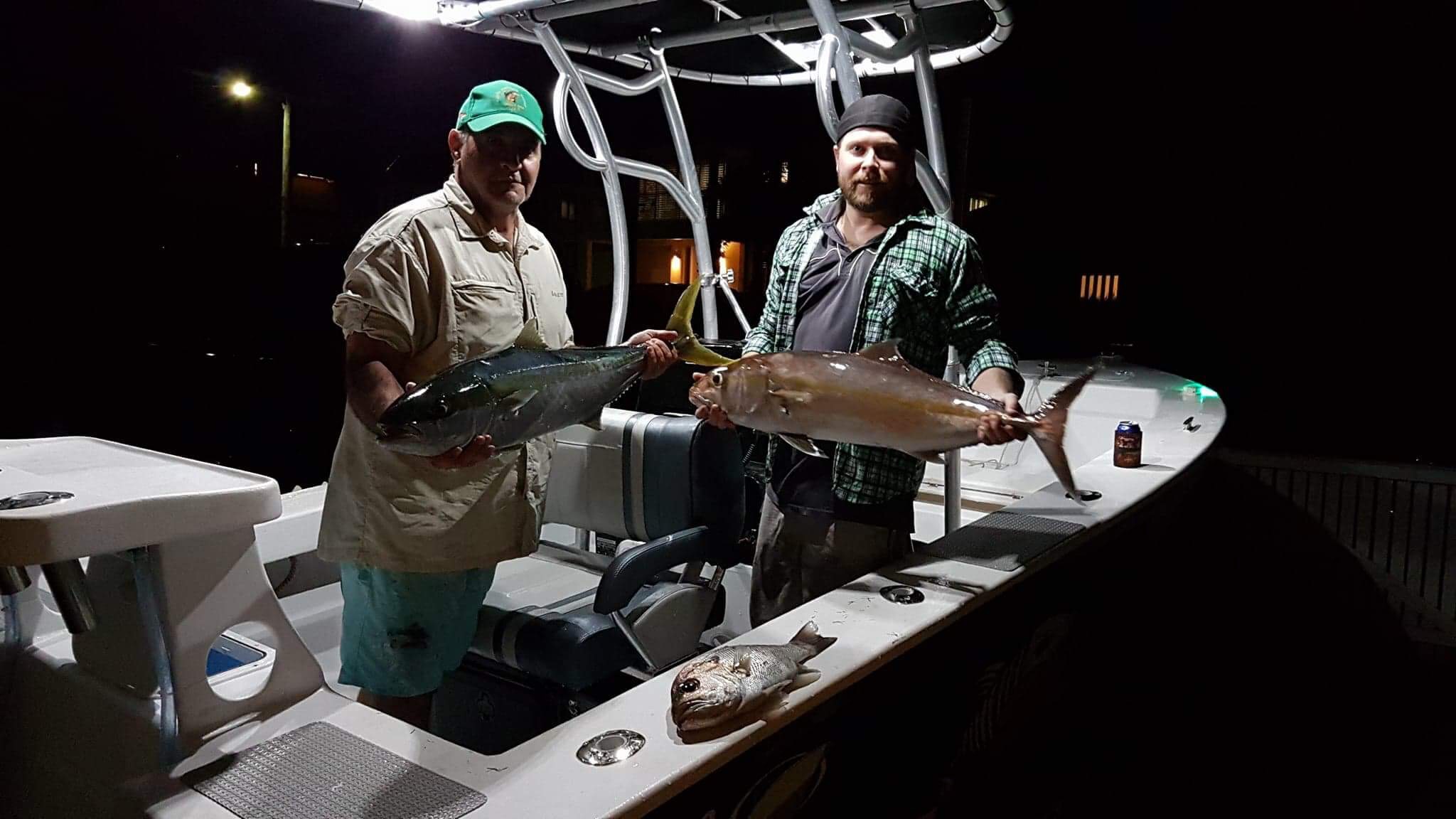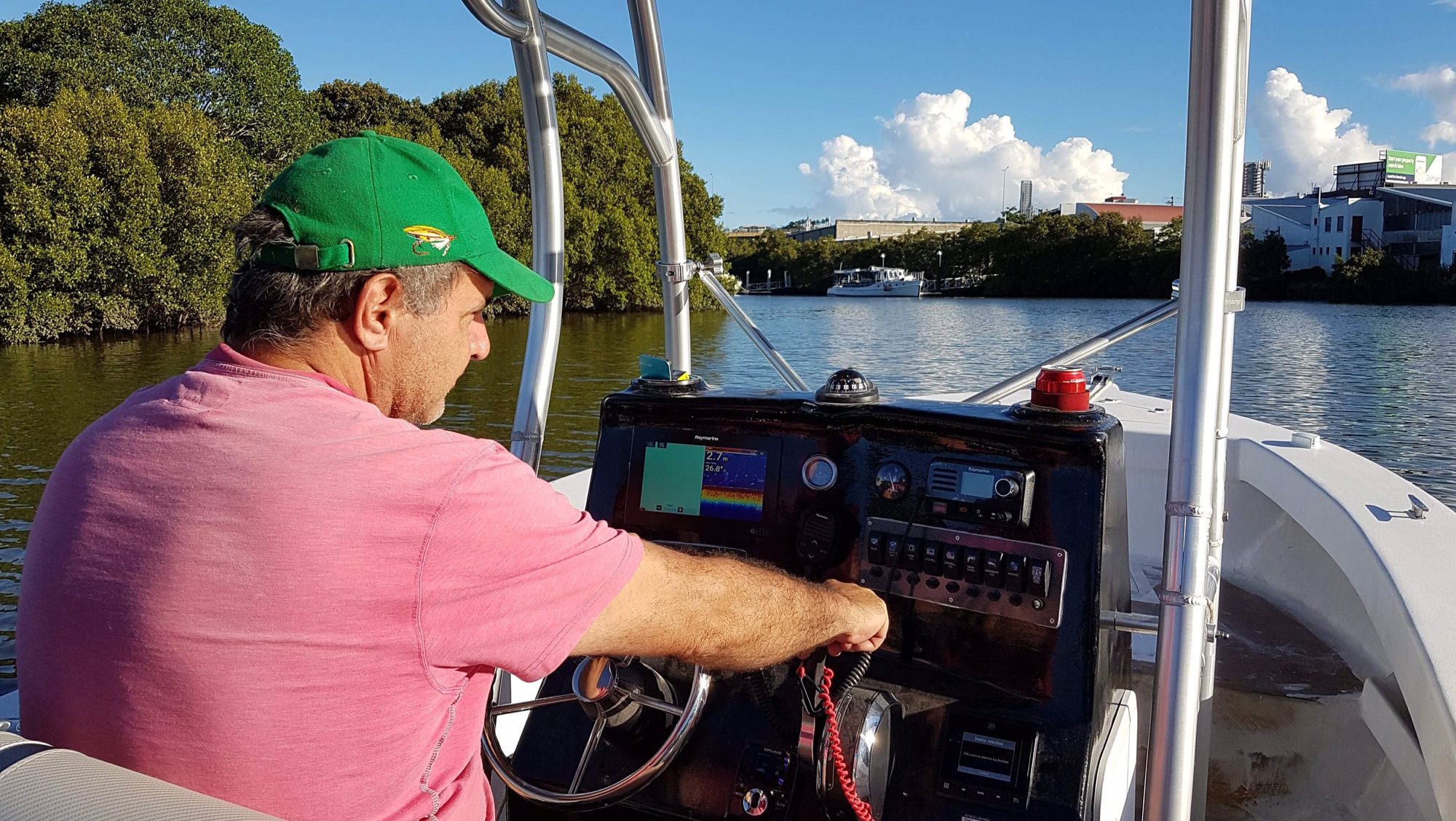 Anyone can build a boat. Its that Easy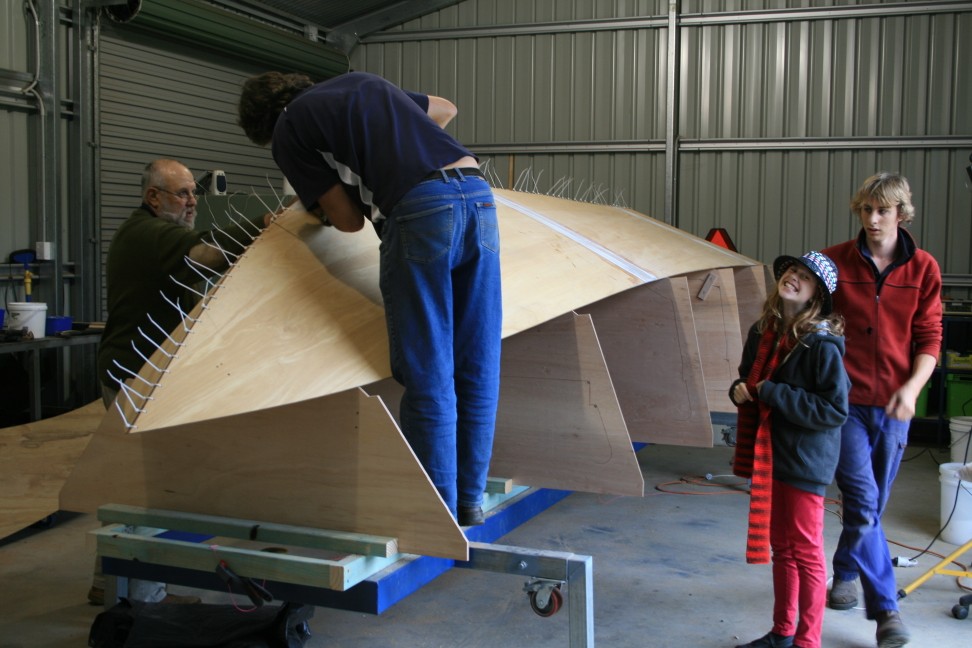 Just about

anybody can build a boat

using the Bowdidge Marine Design Plywood Composite system. This method eliminates many members that ordinarily require fitting, fairing, and beveling. Thus, it's ideal for beginners. A jigsaw and drill are about the only power tools required. The resulting boat is incredibly light weight, strong, and durable.
This quick and easy boatbuilding method consists of plywood planking panels cut to shape from patterns in the plans which are "stitched and glued" together at the seams. Such a boat can be assembled in a matter of hours after cutting out the parts.
The stitching is done with plastic electrical ties passed through small holes along seam edges. These are zipped tight to hold the panels together. The glue is then applied between the stitching and also on the inside in a cove-shaped fillet along the seams, along the outside and inside. After curing, the "stitching" is removed and the gaps filled. Then the hull is covered in glassed.
Plans for all our designs include instructions, material layouts, and material listings. In addition, the patterns provided are precise, since they're taken from the actual 3D modeling and CAD systems.